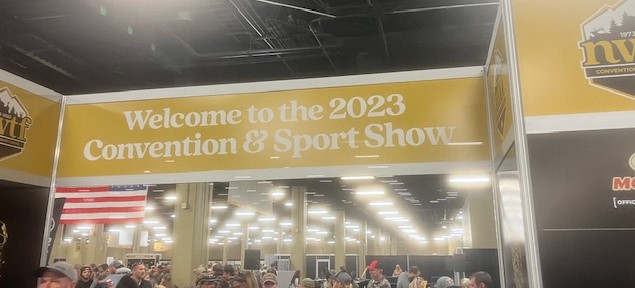 Can't wait for the spring turkey season? Need something to get your mind into turkey hunting mode? Did Santa Clause not bring you all the gear you need for the spring this year? Well, I've got something for you.
The National Wild Turkey Federation (NWTF) holds an annual convention every year. This event brings turkey fanatics from all over the country together in one central location.
The NWTF Convention features vendors with booths showcasing the latest and greatest new turkey hunting wares. Don't worry, there are plenty of booths with your old favorites as well. There is also a chance for callers to compete on the big stage in the turkey calling competitions.
It's a great place for turkey hunters to meet some of the biggest stars in the sport including television personalities, Youtube stars, calling champions, and call makers. You can view the calling competition, taxidermy competition, and call maker competition.
If this sounds like a good time to you, keep reading for all the details.
When is the NWTF Convention?
The NWTF convention takes place in the middle of February. The 2023 Convention will have its first event on Wednesday, February 15th. It will close with a worship service on Sunday the 19th.
The Exhibit Hall will be open on Thursday, Friday, and Saturday (February 16-19, 2023). It runs from 11 AM to 7 PM on Thursday, 9 AM to 6 PM on Friday, and 8:30 AM to 6 PM on Saturday.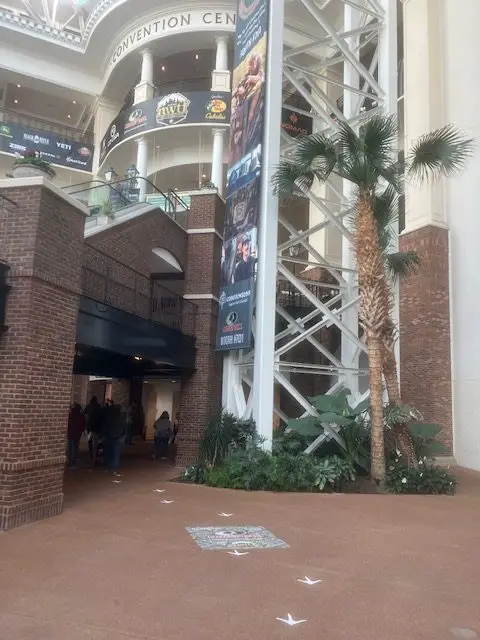 Where is the NWTF Convention?
The NWTF Convention 2023 is in Nashville, Tennessee. It will be held at the Gaylord Opryland Resort and Convention Center.
On-site, there is plenty to do besides the convention. There are 15 restaurants, four bars, and multiple shopping venues. The resort also offers a spa, indoor gardens, a river shuttle, and an indoor and outdoor water attraction called SoundWaves,
Located less than two miles from the Grand Ole Opry, the Gaylord Opryland Resort offers convenient access to many other Nashville attractions. The Nashville International Airport is just 10 miles away if you need to fly into the convention.
Keep in mind that if you need a place to stay overnight, the Gaylord Opryland Resort fills up fast. It is also a fairly expensive hotel room. However, there are plenty of alternate hotels nearby if non-vacancy or budget are an issue.
How do I get tickets for the NWTF Convention?
Tickets (wristbands) for the convention can be purchased online or at the convention. I recommend buying them online to avoid the line when you get there. There should be an app available specifically for Convention that allows you to sign up for a wristband.
Tickets are free for NWTF members. If you are not a member, 35 dollars gets you a weekend pass.
For 35 dollars, you might as well just join the NWTF ahead of time. You generally get a gift card with your membership as well.
For your awareness, there is a charge to park at the Gaylord Opryland Resort.
How many people attend the NWTF Convention?
The NWTF believes that more than 55,000 people will attend the 2023 NWTF Convention in Nashville. Thursday tends to have the least amount of attendees if you are looking for a day with smaller crowds.
There were more than 52,000 attendees at the 2022 Convention. It was the first year the event was held live after a temporary break for COVID.
How many booths are at the NWTF Convention?
The convention features 90,000 square feet of exhibition space. In 2022, there were more than 400 exhibitors at the convention.
If there is a product made for turkey hunting, you will probably find it in Nashville.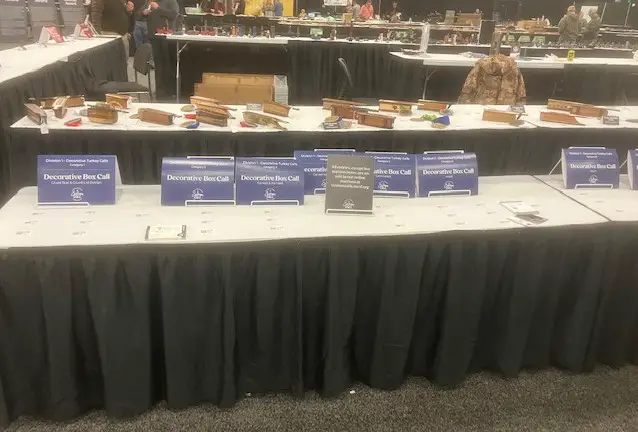 What else is there to do at the Convention?
Besides the Sport Show, there are many other things you can do at the convention. Below are a few that might strike your fancy.
Calling Competitions
One of the biggest attractions at the Convention are the calling competitions. Competitors in different categories will attempt to win more than $25,000.
If you're a member of the NWTF, you have the opportunity to compete as well. See this website for more information.
Interested in watching the events? The following table shows the schedule for the Grand National Calling Championship:
Date
Time
Event
February 16
12 PM- 4 PM
Grand National Friction Division Preliminaries
February 16
5 PM – 8 PM
Owl Hooting and Gobbling Championship
February 17
7:30 AM – 11 AM
Grand National Team Air & Friction Challenge
February 17
12 PM – 4 PM
Grand National Senior Division Preliminaries
February 17
4:30 PM – 7:30 PM
Grand National Poults Calling Championships 
Grand National Junior Calling Championships 
Grand National Intermediate Calling Championships
February 18
8 AM – 11 AM
Grand National Friction Division Championships 
February 18
12 PM – 3 PM
Grand National Senior Open Division Championships 
February 18
4 PM – 6 PM
NWTF Grand National Calling Championships Hall of Fame Inductions
Callmaking Competition
The Grand National Custom Callmaking competition is also held at the Convention. There are categories for decorative turkey, hunting turkey, decorative duck, hunting duck, and wildlife art.
Check out the finest box calls, slate calls, and more at this event. They even auction them off at the end if you find one that you like enough to take home. For more information, visit this website.
The Waterin' Hole
The Waterin' Hole is a great place to unwind. Enjoy live music and other entertainment. Share an adult beverage with fellow turkey hunters.
Kid Zone
Taking a younger turkey enthusiast to the Convention? That's great! There are a TON of things for youth hunters to do. From interactive exhibits to presentations to learning experiences, the Kid Zone has plenty to keep a child entertained.
Speaking Sessions
Throughout the Convention, there will be speakers presenting on various topics related to turkey hunting, conservation, and other related activities. Schedules should be posted as the Convention dates near.
What is the theme for the NWTF Convention this year?
The 2023 NWTF Convention will be a celebration of 50 years of conservation success.
The National Wild Turkey Federation was founded in 1973. At the time, there were only 1.3 million turkeys in North America.
The NWTF helped raise the wild turkey population to its height of nearly 7 million turkeys. This year, the NWTF convention will not only be celebrating the past 50 years but planning for the next 50 as well.