*Note: This article may contain affiliate links. If you find this information useful, please consider purchasing through these links. When you do, we receive a small commission at no extra cost to you which allows us to continue producing top-quality content. We only recommend products that we use and trust.
Are you tired of lugging around a heavy shotgun all day? Skittish about firing your gun because of the painful recoil? Going broke from buying expensive turkey shells?
If you answered yes to any of these questions, then a 20 gauge turkey gun might be for you.
While turkey hunting with a 20 gauge would have been all but unheard of in the 90s, sub-gauge shotguns have grown exponentially in popularity amongst hunters in the past ten years or so. In fact, some guns such as the Benelli M2 Turkey Performance Shop Shotgun (pictured above) are ONLY offered in a 20 gauge.
If you're in the market for a new turkey shotgun, read on to see why bigger is not always better.
1) Technological Advances
Just as the 3.5″ 12 gauge shell drove down demand for the 10 gauge turkey shotgun, advances in ammunition and chokes are driving up the popularity of the 20 gauge turkey gun.
Heavier-than-lead shotgun shell pellets made from tungsten (TSS) or a tungsten blend are denser than traditional lead pellets. That means they carry more knock-down power. They also tend to shoot a denser pattern.
Because these pellets are more lethal than lead pellets, you can shoot smaller shot size than you would with lead. Loads of 7s or even 9s are common. Throwing more pellets in a denser pattern with more power is a win/win/win.
And that's just half of it. There are now many different models of turkey-specific chokes on the market. These chokes are made to handle these new, hotter loads. When you combine the two, you get a deadly volley well past the normally acceptable 40-yard range of lead loads.
Such tight patterns leave little room for error when aiming. That's where the red dot scopes come in. Red dot scopes are small and lightweight. They are usually faster to get on target than a traditional scope.
TSS loads, tight turkey chokes, and red dot scopes mean you no longer have to carry a 10-pound shotgun around.

2) Lighter Weights
In most models, the 20 gauge is lighter than the 12 gauge. For many turkey hunters, this can be advantageous.
Unlike duck hunting where you are generally stationary in a boat or blind for most of the hunt, turkey hunting often requires "running and gunning." Crawling, sneaking, or literally running are all easier with a smaller gun.
If you spend all day traipsing around with a gun, that lighter weight can make all the difference in your energy level at the end of it.
For a real lightweight option, you should consider a single-shot 20 gauge turkey gun. Single-shots such as the Stevens 301 Turkey are extremely light for all-day running and gunning.
The Stevens 301 Turkey is made by Savage. It weighs in at a meager 5.07 pounds. And that's not the only small thing about it. It can be purchased brand new for less than 300 dollars.
The Stevens 301 Turkey XP comes complete with a red dot scope (the non-XP version comes without a red dot), an extra-full choke, a camo stock, and a recoil pad. It's ready for the woods right out of the box. Okay, maybe you should pattern it with a few shells first.
3) Less Recoil
For some, a little more recoil won't make much difference for one shot on a turkey. However, for some, it can make a ton of difference.
I purchased my first 20 gauge turkey gun to try to get my then-girlfriend to go hunting with me. I knew that if the shot knocked her over, she wouldn't want to go with me anymore (and therefore, I wouldn't get to go as much). For women, children, smaller framed hunters, or other new hunters not used to shooting firearms, a little difference in recoil can be the difference between a pleasurable hunt and a negative experience.
As we age, we also become more recoil sensitive. Therefore, a 20 gauge can be a great option for older hunters who don't want to feel the beatdown of a 12 gauge any more.
All other things being equal, gas-operated autoloaders tend to kick less than inertia-operated autos, pump guns, doubles, and single-shots. The Weatherby SA-459 Turkey is a gas-operated semi-auto weighing in at 6.25 pounds in 20 gauge. It's light enough to tote around the woods, but not so light that it knocks your teeth out when you pull the trigger.
The Weatherby SA-459 Turkey has a pistol grip for easy handling in the turkey woods. It also features a Picatinny rail so you can easily attach your favorite optic. Retailing at about 650 dollars, this 20 gauge turkey gun is a great option for the recoil-sensitive.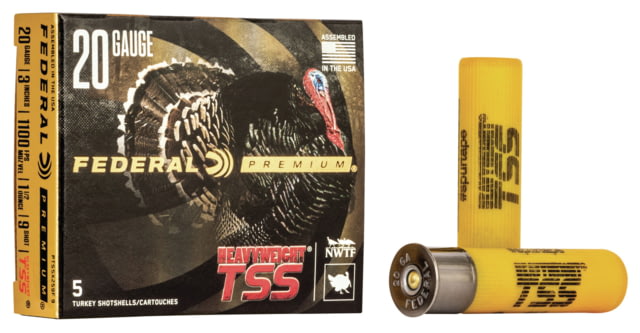 4) (Slightly) More Affordable Ammunition
Turkey ammunition is expensive. Affordable ammunition is almost an oxymoron. A box of TSS loads can cost more than 90 dollars (19 dollars a shell).
20 gauge shells are cheaper than 12 gauge shells in most brands. This makes sense as it is less material that goes into the smaller shells. If you shoot a lot, any kind of savings you can find makes a difference.
Over the long run, you can save even more money by handloading your own TSS shells. Initial equipment and supply costs may seem high, but over time you will save money as you reload more and more. You will also have the satisfaction of knowing that each load is built to your exact specifications and quality control.
Conclusion
While there is still a place for the 12 gauge for many hunters, more and more turkey hunters are turning to the 20 gauge. As we have discussed, a 20 gauge turkey gun can offer you advantages when it comes to the weight and recoil of the gun. In addition, you can save a little money on ammunition.
If you haven't added a 20 gauge turkey gun to your arsenal, now is the time to consider it. There are many turkey-specific models on the market that can fit almost any budget.
If you enjoyed this article, you may also like to read my article on hunting turkeys with a modified choke.