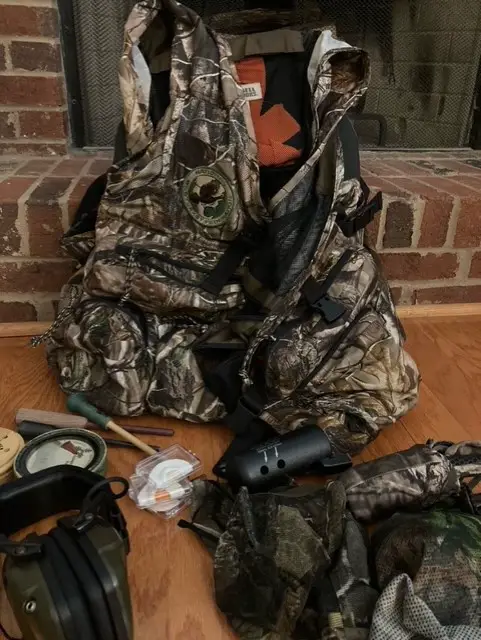 *Note: This article may contain affiliate links. If you find this information useful, please consider purchasing through these links. When you do, we receive a small commission at no extra cost to you which allows us to continue producing top-quality content. We only recommend products that we use and trust.
What's in your turkey vest? I'm writing this article now because I imagine in another five years it would take an article longer than War and Peace to describe everything I fit in my turkey hunting vest. In fact, I should've written this article five years ago and saved myself a lot of time.
As you might have gathered, I like to be prepared. I work out every day so I can wear this thing all over the woods every spring.
All kidding aside, the following is a description of what I generally keep in my vest. For each hunt, I will add or subtract things from it to meet the individual needs of each hunt.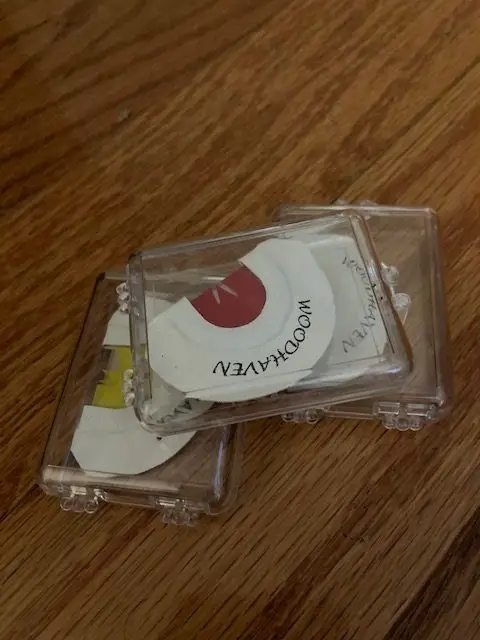 Calls
2 Pot Calls
4 Strikers
1 Box Call
3 Mouth Calls
1 Crow Calls
In my opinion, your calls are the most important thing you can carry in your turkey vest. Like most veteran hunters, I have accumulated quite a few calls over the years. I carry a good fraction of those with me so that I'm prepared for most situations.
When you consider that I usually carry a double-sided and a single-sided pot call (three surfaces total) combined with four strikers, that is 12 different combinations of sounds I can make with these calls to try to strike a turkey's fancy. Throw in a double-sided box call and three mouth calls and we're up to 17 different hens in my turkey vest.
I like an owl hooter for generating early morning shock gobbles and I'll use the crow call as the day warms up and I try to find a turned-up gobbler.
I reserve my gobble call for those days when nothing else seems to work. Just when I'm about to pack it in for the day, I break out a few gobbles to see if that is the secret sauce that tom is looking for.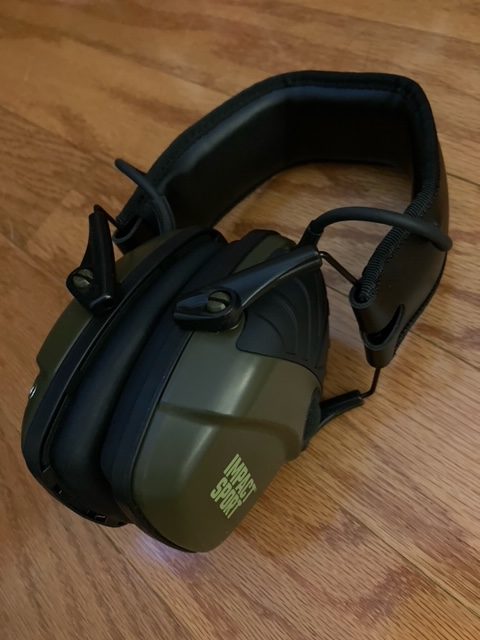 Clothing
There are a couple of reasons I carry multiple gloves and facemasks in my turkey vest. The first is that I seem to leave a glove behind on every hunt. I also like to have a more breathable facemask and pair of gloves as the weather heats up throughout the day.
I hunt with a partner a lot of times. I can't tell you how many times my partners have shown up without a facemask or gloves. Therefore, I always carry extras to loan out to less prepared hunters.
If you've read my article on how far away you can hear a turkey gobble, you know that turkey hearing enhancement/protection is a big part of my game. Right now, I'm wearing the Howard Leight by Honeywell Impact Sports. When I'm not hunting, they stay in my vest so that I have them for every hunt.
Nourishment
Camelback
Protein Bars or Beef Jerkey
Peanut Butter and Jelly Sandwich/Bagel
Fruit Leather
If you just hunt turkeys coming off the roost, you probably won't need any of this. However, if you want to fill more tags, you should aim to be in the woods as long as possible. Carrying water and food with you is a good way to keep you there.
A two or three-liter Camelback reservoir tucked into one of the biggest pockets of my turkey vest helps me stay hydrated throughout the day. If I'm really going to be out for an all-day hunt, I may bring along a Katadyn water filter to drink from a creek or other water source.
When it comes to hunting food, I try to keep lightweight foods that are high in protein, carbs, or calories. Protein bars, beef jerky, peanut butter bagels, and fruit leathers can sustain me through an all-day hunt without breaking my back.
For more information on hunting nutrition, read my article on the best hunting snacks.
Bug Repellant
With spring turkey season comes warmer weather. With warmer weather comes mosquitoes, ticks, and chiggers.
While Thermacells keep you from having to put stinky, sticky spray all over your body, they don't protect you from ticks. One solution for this is to treat your clothes with permethrin to keep the ticks away. You can then hunt in comfort knowing you are covered on all fronts.
Many modern turkey vests come with a special pocket just for your Thermacell. This is a great feature as it will keep you from losing your Thermacell as you stalk turkeys across the country.
You can also go the cheaper route and buy a can of Off! Deep Woods. Spray around your ankles, groin, waistline, and armpits to keep away chiggers and ticks. A dab on your hands, neck, and face should keep the mosquitoes at bay. Because turkeys can't smell, you don't have to worry about the scent of bug spray.
Shooting Gear
1 or 2 Extra Shells
Rangefinder
I always carry one or two extra shells in my turkey vest. Have I ever had to use these? No, but if I come across a couple of coyotes followed by a flock of turkeys, I'll be glad to have them.
Unless you are really good at judging distances, a rangefinder is a very useful item to keep in your vest. When you first set up in a spot, range landmarks around you so that you will know how far out that gobbler is as he approaches you.
Miscellaneous
Knife or Leatherman
Turkey Tags/License
Turkey Tote
I never go to the woods without a knife. There are so many uses for a knife while hunting. Most importantly, should you kill a turkey, you will need a knife to dress it out.
I keep a Havalon Piranta in my turkey vest. Havalon knives are extremely lightweight and super sharp. The price is right too.
I carry a Leatherman Skeletool every day. While it doesn't have a ton of tools on it, it can get you by in most situations. While the knife has obvious applications to hunting, the tools are handy should you have issues in the field with your firearm or bow.
Before you go turkey hunting, be sure to have any tags or licenses required by the state you are hunting. Know the laws on reporting or tagging your harvest as well. If you keep your tag in your turkey vest, you will know you have it when you hit the woods.
A turkey tote makes it easier to carry your harvest out of the woods. My tote doesn't weigh much or take up a lot of space, but it sure is nice if I get a bird.
Conclusion
For the most part, the above list is what I carry hunting give or take a few items. For some short hunts, I may just slip a few calls into my pockets. On others, I may forego food and water if I just plan to be out in the woods for a few hours.
If you don't own a turkey vest yet, check out my overview of the (fairly) new vest from Sitka. While a bit pricey, it is a really cool approach to the turkey vest.
How about you? What's in your turkey vest? Let me know in the comments below what essentials I missed. I'm always looking to improve my gear and hunts.