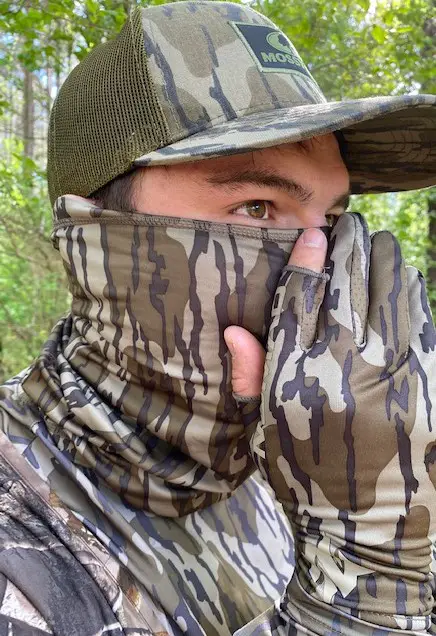 *Note: This article may contain affiliate links. If you find this information useful, please consider purchasing through these links. When you do, we receive a small commission at no extra cost to you which allows us to continue producing top-quality content. We only recommend products that we use and trust.
Let's talk about wearing masks. Are they effective? Should they be required? Do they need to cover your mouth AND your nose?
No! I'm not talking about THOSE masks. I'm talking about turkey hunting face masks.
Turkey hunting face masks are not a requirement for killing longbeards, but they sure can help. Unfortunately, they can be downright uncomfortable at times.
I want to show you my arsenal of masks that I wear throughout the turkey season to stay concealed and comfortable. Let's start with my early season choice.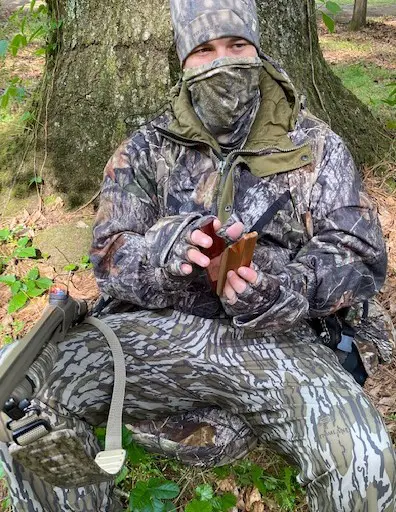 The Best Turkey Hunting Face Mask for Early Season
Whether your season starts in March or April, you're bound to have a few cold fronts blow through early on. It's at these times that you will want to wear your facemask the most.
In my home state of Georgia, it is pretty rare to have a morning dip below the 30s during turkey season. But if the wind is blowing, it can get quite brisk. On these mornings, I opt for a merino wool neck gaiter.
For those of you who have read my article on what to wear turkey hunting, you know that I am a huge fan of merino. Merino wool is naturally warm for its weight. It is also breathable and odor resistant. Great qualities in an article of clothing that will be covering your mouth and nose.
I usually wear the Nomad Durawool gaiter. Made up of 60 percent merino wool, 36 percent nylon, and 4 percent spandex, this feels good even against a beard. It is lightweight which is nice when it starts to warm up and I have to carry it around in my vest while I wear another face mask.
Another great thing about this gaiter is that it can be machine washed (unlike some wool clothing). I hate handwashing and being able to pop this in the washing machine with the rest of my clothes is a nice convenience.
While this face mask will keep me warm enough most of the time, there are some parts of the country where turkey season can be downright bitter. During these times, I will wear a Sitka Neck Gaiter. A double layer of fleece will keep you warm in some very cold temperatures.
As it starts to heat up, I start thinking about lighter face masks.
The Best Mild Temperature Turkey Hunting Face Mask
Once temperatures start to reach the high 50s and 60s, I will grab a thinner facemask. Right now, I am wearing the North Mountain Gear Poly Stretch Fit Neck Gaiter that I bought off Amazon.
This neck gaiter (I still call it a facemask) won't make you feel like you're suffocating until temperatures get into the high 70s. It's really comfortable against your skin too.
It is long enough to be versatile in the way that you wear it. When I'm just walking through the woods, I keep it around my neck. Once I feel the need to conceal myself, I will pull it up to cover my face. It is long enough that you can cover just your nose or you can pull it up over your ears. You can even pull it over your head.
If you're not sold on the North Mountain brand, Nomad makes a similar gaiter. Ol' Tom uses a similar material to make a full hood version if you prefer that style.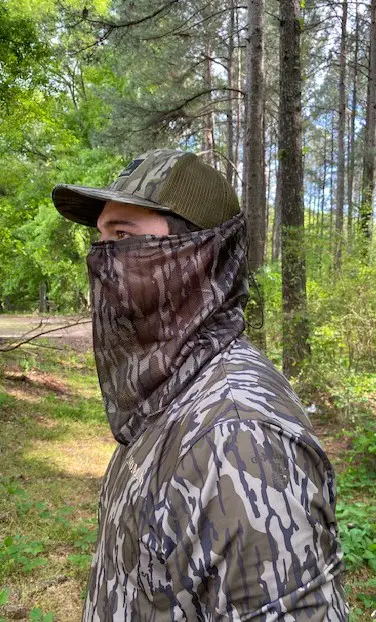 The Best Warm Weather Turkey Hunting Face Mask
This is probably the turkey hunting face mask that I wear most often. As it starts to heat up, I want the most breathable mask I can get.
I have found mesh face masks hard to beat in anything from 70 degrees up. In fact, I have multiple models that I wear for different situations.
If I'm hunting where I know there will be a lot of mosquitoes, I go with a full hood type mask. I just pull it straight over my hat when I'm setting up to hunt. I keep the slot where I can still see out, but the rest of my face is covered. I also like this setup because you have less fabric touching your face in the heat.
When there are not a lot of bugs, I will just use a neck gaiter-style mesh face mask. I keep it around my neck and pull it up when I am set up to call.
These face masks offer several advantages over the full face mask. First, they pull up really fast. Second, they offer much better peripheral visibility than the full facemask. They also interfere with my ear muffs/hearing enhancement way less than a hood-style mask.
Another thing I really like about these masks is how light they feel on your skin. This makes a lot of difference when you are hunting in the hot afternoon heat.
Some hunters prefer facepaint over face masks in warm weather. I have never been a fan of face paint. I always have to stop at a gas station or some other public place before or after my hunts. I prefer to not look like Rambo as I encounter the non-hunting muggles.
Which camouflage pattern is best?
I have always been of the opinion that camouflage patterns are like fishing lures. They are designed more for the human eye than the game's eye.
You're never going to completely blend into your surroundings, but you shouldn't stick out like a sore thumb either. A good camo pattern consists of plenty of brown and natural green hues.
Some of the most popular camouflage patterns for turkey hunting are Mossy Oak Bottomland and Original Bottomland. Mossy Oak Greenleaf is a variation that is good as foliage gets more green in the mid to late season.
You will find Realtree patterns on a lot of good turkey gear as well. Even micro patterns such as those by Sitka and Kuiu are becoming more and more common.
Don't think your gear has to match. Plenty of good hunters wear unmatched camouflage patterns.
The most important thing is that you are wearing camouflage (or some solid earth tone) and that you are still. Do that, and you will be fine.
Conclusion
There are many factors at play when choosing a turkey hunting face mask. Temperatures, insects, and personal preferences are important considerations when picking your face mask.
I recommend choosing two fairly inexpensive masks if you are just getting started. One for hot weather and one for cooler temperatures. Keep both in your vest or bag and switch as the temperatures change.
A good camouflage turkey hunting face mask can save your hunt. Make sure you've got one whenever you hit the woods.
If you want to learn more about dressing for a turkey hunt, read my article on what to wear turkey hunting here.