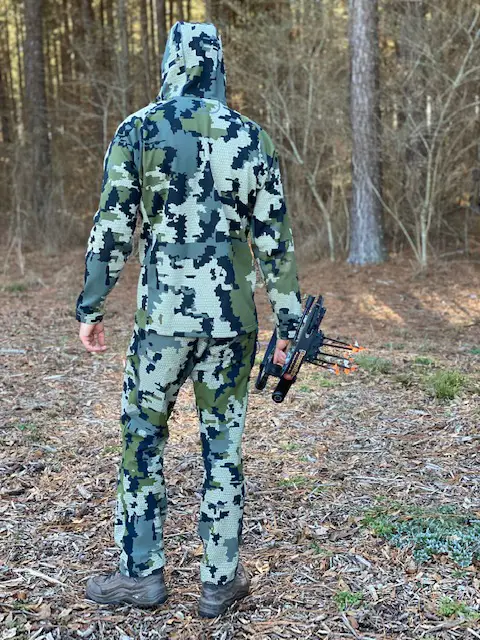 *Note: This article may contain affiliate links. If you find this information useful, please consider purchasing through these links. When you do, we receive a small commission at no extra cost to you which allows us to continue producing top-quality content. We only recommend products that we use and trust.
Hunting clothing has come a long way in the past decade. It seems like just yesterday, I was wearing just a regular pair of camo, cotton pants every time I went to the woods. But companies such as Sitka, First Lite, and Kuiu are creating more advanced pants than ever before.
I was given a pair of Kuiu pants for my birthday last year. The model I have is the Kuiu Attack Pant in Verde. I have had a chance to put these pants through their paces. In fact, I basically lived in them for a week during a Colorado elk hunt.
I wanted to take a few minutes to share my thoughts on these Kuiu pants so far. If you're like me, you will want to know everything about a pair of 139-dollar pants before you make the commitment.
Let's get into it.
Color
At the time of publication, the Kuiu Attack Pant was made in three camouflage colors: Valo, Verde, and Vias. It is also made in an additional eight solid colors. You've got a lot of options to choose from here.
I like the Verde pattern as it has the most green in it of the camo patterns. In my opinion, there is really not a huge difference between any of the patterns. As I have always said, as long as you have some sort of brown/green/tan/grey hue going for you, you should be fine as long as you are still.
The solid pants allow you to have some versatility. With pants priced this high, it's nice to be able to wear them around town as well as in the woods. I would like to get another pair in the Bourbon or Major Brown color at some point.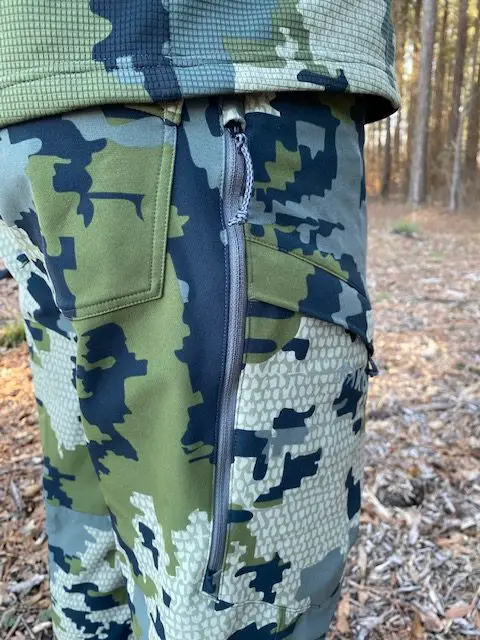 Fit and Comfort
Kuiu makes the Attack Pant in waist sizes 28 to 42 with "Regular," "Short", and "Tall" inseams. I am 6'1″ tall and 195 pounds and I normally wear a 34×32 pant size. I went with the 34 waist and Regular inseam.
When I initially put the pants on, they felt tight to me. Now I will admit, I generally wear my pants a little looser. Not a baggy fit, but I'm not hip enough for the skinny jeans popular with the kids and stars of today.
The good thing about the pants is the stretch. While they felt tight, the athletic fit still allowed me to climb, squat, and move about without any restrictions. In hindsight, I might have gotten a 36-inch waist for a fit more in line with what I am used to. However, I don't feel uncomfortable in the pants after wearing them for a few minutes.
The regular length sits just right on my boots. No complaints about the inseam sizing.
According to Kuiu, they are constructed from 4-way stretch primeflex polyester (247 g/m2). They are comfortable against the skin or with a merino layer underneath.
The inside of the pants is brushed. Kuiu claims this prevents chafing and I will say that I have yet to have any issues with that even in hot weather. It makes for a comfortable feel against your skin.
I have worn these pants in 80-degree temperatures down to low 40 degree temperatures.
The Kuiu pants can be a bit hot at 80, but what long pant isn't? They breathe well, especially with the vents open. The vents on the sides can be zipped down to reveal just a mesh lining. This is a really nice feature when it is hot or you are hiking a long way.
If you consistently hunt in warm temperatures. You might consider the Kuiu Tiburon Pant. These pants are even lighter than the Kuiu Attack Pants.
When paired with a Merino bottom layer, the Kuiu Attack Pant can easily keep you warm in high 40s Fahrenheit temps. If you are running and gunning, you probably won't need a thicker pair of pants. However, if you are still hunting in lower temperatures, you will want to layer with an insulating layer on top.
Durability and Weight
These Kuiu pants have survived a hunting season without any tears or rips in the fabric. I have slid down hills, tracked deer through briar patches, and snagged these pants on deer stand hardware.
While they feel a bit thin, I can't question the durability yet. I have washed and dried them a number of times in the washing machine and dryer, and they still feel just the same as they did new. I have yet to notice any color fading.
At 18.5 ounces, you can pack them without much of a weight penalty.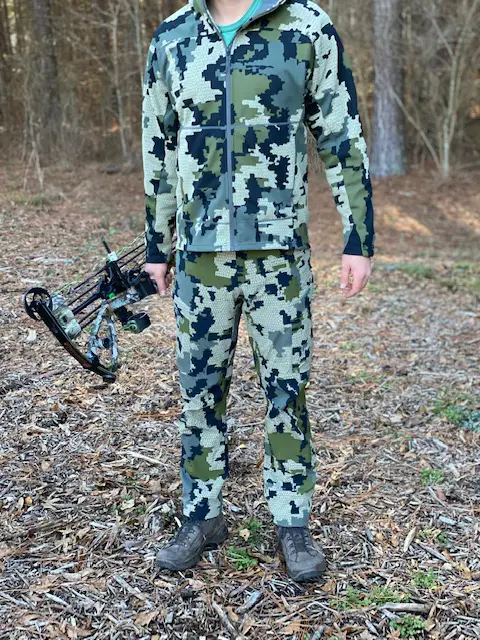 Kuiu Pants Features
These Kuiu pants feature six pockets: two back zip-pockets, two front open pockets, and two cargo zip pockets.
The back pockets are a bit hard to get things in and out of. The zipper on the back isn't easy to operate. It is nice knowing that items are secured.
The front pockets are different from your normal blue jeans pockets. They hold your phone or other items in them tight to your body so they don't bounce around while you walk. I found them very comfortable and accessible for a phone, wallet, or pocket knife. Once again, you can't fit a lot in them.
The cargo pockets are large enough to hold a range finder, pot call, or a thin pair of gloves. There is one on the outer side of each leg.
These Kuiu pants feature a DWR repellant making them water-resistant. Through light rains and walks through tall, dew-covered grass, my legs and butt never got wet.
For most situations, you can stay dry without rainwear. In a downpour, I would recommend rain pants over top. When these pants do get wet, they dry very fast.
Conclusion
While the Kuiu Attack Pants are expensive, they have the technical features, a comfortable fit, and the durability to justify the purchase.
They are versatile enough that you can wear them in the vast majority of hunting conditions. Whether you are turkey hunting in Nebraska, chasing elk in Colorado, or whitetails in Texas, these pants will suit your purpose.
Heck, buy them in a solid color and wear them to the office on your next casual Friday.