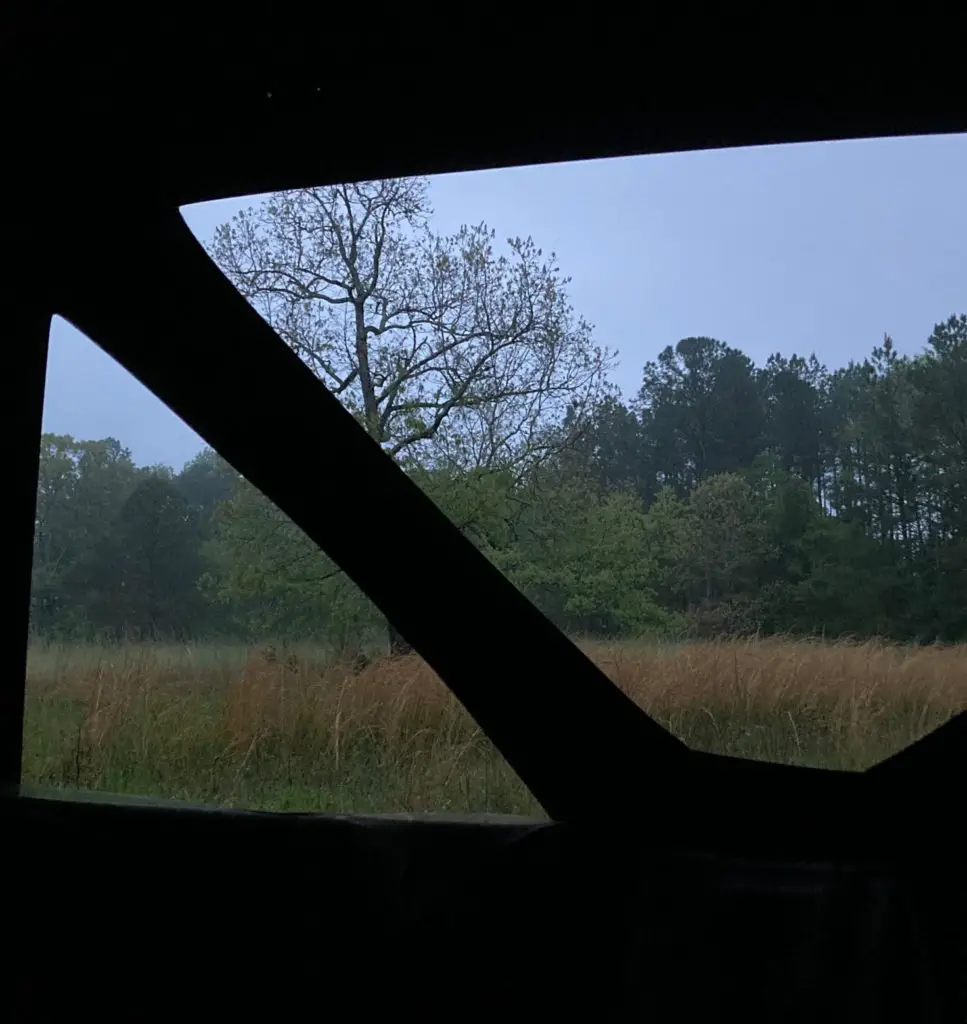 *Note: This article may contain affiliate links. If you find this information useful, please consider purchasing through these links. When you do, we receive a small commission at no extra cost to you which allows us to continue producing top-quality content. We only recommend products that we use and trust.
You made it to the weekend. It's finally time to hunt that spring gobbler you've been dreaming about all winter. You wake up in the wee hours of the morning only to find a storm has rolled in. Should you go turkey hunting in the rain?
Yes! As my grandfather used to say, "You can't kill them in bed."
Turkey season is so short and life can be so busy, I go turkey hunting any chance I get. However, that doesn't mean I keep the same tactics that I would utilize on a bluebird day. I also change up my gear a bit to ensure I can stay somewhat comfortable during the hunt.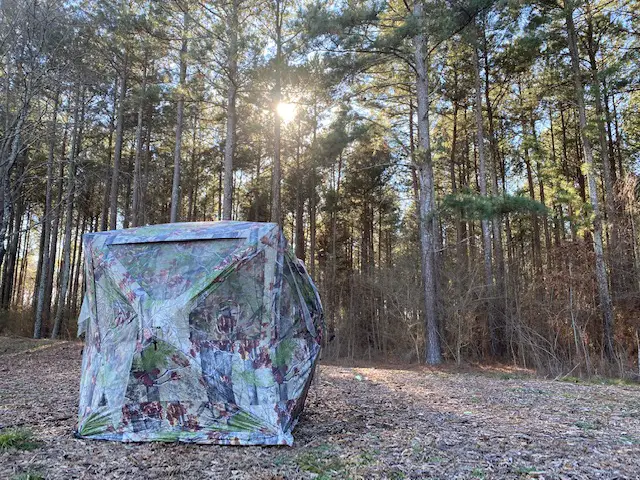 Turkey Hunting in the Rain Tactics
Let's get this out of the way first…be safe! If thunder and lightning are nearby, stay sheltered until the danger has passed. Yes, turkeys will shock gobble at thunder, but always make sure you're going home to your loved ones at the end of the hunt. If the wind is blowing hard, take careful note of what trees you are under. Falling branches and trees can be just as dangerous as lightning.
Now that we've established that, let's get into how to go turkey hunting in the rain. Turkeys tend to migrate to open spaces when the rain is coming down. Their sense of hearing in the woods during a storm can be dulled by the sound of the rain hitting the trees and branches. They move into fields and other openings where they can utilize their excellent vision to see any predators coming from a long distance.
While some turkeys may suffer from lockjaw in heavy rain, once the rain lightens up a bit, many turkeys will belt it out like your girlfriend singing an Adele song on karaoke night. The time just after heavy rain can be some of the best times to chase toms.
Remember, this is turkey breeding season. Turkeys still have to mate (and eat and drink) despite the bad weather.
Try setting up a blind in a field with a few decoys nearby. Turkeys tend to completely ignore blinds so they allow you to set up in many places where there would otherwise be no cover. As previously mentioned, a turkey's hearing may be somewhat dampened in the rain. Therefore, a good visual attractant such as a jake and hen decoy pairing may help you to draw them in close.
If you know where turkeys are roosting, employing normal early morning setups to kill a turkey can work. Just remember to be patient as rain can delay a turkey's fly down.
Adjusting Your Gear to the Conditions
While turkey hunting in the rain can be very productive, you won't have much success if you're not comfortable enough to stay out there.
Depending on the temperature, a quality, camouflage rain suit can make a huge difference. I have found Kryptek's Jupiter line of rain gear to be lightweight enough for warmer spring temperatures, but rugged enough to withstand some of the terrains we find ourselves turkey hunting in. The price is reasonable as well.
In my younger days, I saved a few bucks by buying FroggToggs from my local Walmart and hitting them with some flat brown and green spray paint for a cheap, breathable set of rain gear. While this got me through several nasty rainstorms, these suits tore up pretty quickly. If you really need a set of gear to get out in the woods, this is not a bad option.
As I mentioned in the previous section, a ground blind will keep you concealed even in the most open of fields. They also do a pretty good job of keeping most of the rain off of you. I really enjoy my Barronett Pentagon blind when I am hunting with someone else. This thing is roomy and really allows you to get a good view of any incoming turkeys with all of the window options.
If you're in a ground blind, don't forget a stool or chair to stay off the wet ground. If you're not hunting out of a blind, many turkey vests have an attached seat. This seat is very handy when the ground is soaked.
Different types of turkey calls react differently to wet conditions. Many pot calls can be too slick to run when it is humid. During the preseason, experiment with different surfaces and strikers to see which still sounds true when they are wet.
Mouth calls are a staple of wet weather hunting. If you are wearing rain gear, you can stick a few mouth calls in your pocket and forego a bulky vest under the rain gear. This will help you stay cool and mobile. Mouth calls will run true no matter the conditions.
I have a love/hate relationship with box calls in the rain. Because they tend to be the loudest calls, box calls are advantageous in reaching out to gobblers who may not be able to hear as well as they can when the rain is not falling around them. However, like pot calls, they can also suffer from friction issues when they are wet. One way to get around this is by putting your box call in a bread bag (yes, take the bread out first) to keep it dry while you are using it.
If you have the choice, leave your wood stock, blued barrel shotguns at the house when you go turkey hunting in the rain. A gun with a synthetic stock and durable finish on the barrel will give you peace of mind knowing that you aren't destroying your weapon by hunting in the rain. Once you get home, be sure to dry, clean, and oil your gun to maintain functionality and appearance.
Conclusion
You only get so many days to turkey hunt each year. Don't miss out on filling your tag because of bad weather. These rainy days can be some of the best days to hunt turkeys.
By following the advice in this article, you can enjoy your time turkey hunting in the rain and have a good chance of getting that gobbler. Just remember to blow dry him before you take that post-kill picture!