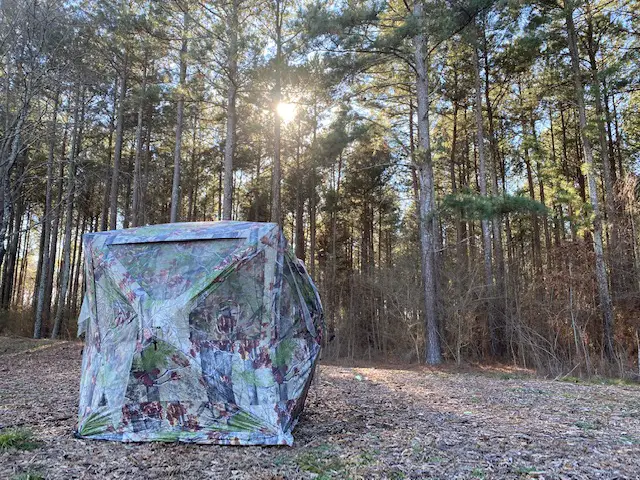 *Note: This article may contain affiliate links. If you find this information useful, please consider purchasing through these links. When you do, we receive a small commission at no extra cost to you which allows us to continue producing top-quality content. We only recommend products that we use and trust.
If you are claustrophobic, have no fear. The Pentagon by Barronett Blinds is here.
Truly, this thing is huge at 41.5 square feet! While it doesn't come with a kitchen sink, it wouldn't be hard to fit one in this blind.
Barronett offers a number of reasonably priced hunting blinds. After doing some online research a few years ago, I pulled the trigger on the Pentagon. I liked the idea of being able to take beginners with me on turkey hunts.
I have been very pleased with the blind so far. I've used it for both turkey and whitetail hunting. Keep reading for the full details on the Pentagon by Barronett Blinds.
Overview
Barronett Blinds makes a Pentagon and a Pentagon Heavy Duty. The regular Pentagon weighs in at 21 pounds while the Heavy Duty version comes in at 30 pounds.
The Heavy Duty version features a 600 denier, waterproof polyester fabric. The standard edition comes in a 150 denier, water-resistant polyester fabric. Both have 10mm fiberglass poles.
The Pentagon has a 72″ height and a 96″ by 96″ shooting width. This allows you to fit multiple people comfortably in this blind. It also gives you plenty of space to draw your bow.
Whether you are a parent taking a child hunting or a cameraman filming a hunter, you will have enough room in this Barronett blind. It wouldn't be inconceivable to fit four people inside without bumping into each other.
The height allows hunters under 6 feet in height to stand up fully. If you are 6 feet plus and you need to stand up to shoot, you should consider a different model of Barronett Blinds. Barronett makes several that are 80″ tall including the Grounder, the Big Cat, the Big Mike, and the Beast.
The Pentagon is a hub-style blind. The hubs are made of lightweight aluminum. There are pros and cons to this kind of system that we will get into later.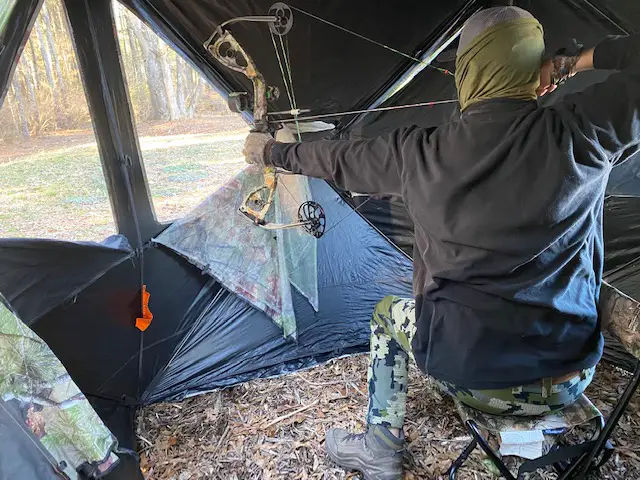 Set-up and Takedown
I would definitely not consider myself the fastest at setting up or taking down the blind. However, I have done it on numerous occasions. It takes me no more than three or four minutes to set it up and about the same amount of time to take it down. It goes back in the bag without too much stress.
I find these hub-style blinds to be much quicker to unpack and pack than a spring-style blind. I have been in the woods for what felt like hours re-reading directions and watching YouTube videos on how to pack blinds back in the carrying case. That has never been an issue for me with the Barronett Pentagon.
One thing about the hub-style blinds is they take more force to get set up than a spring-style blind. Therefore, it is noisier to set up on an early morning hunt. To me, this is the disadvantage to this type of blind. If you set your blind up well before your hunts, this won't be a problem for you.
Set-up and Takedown Grade=B+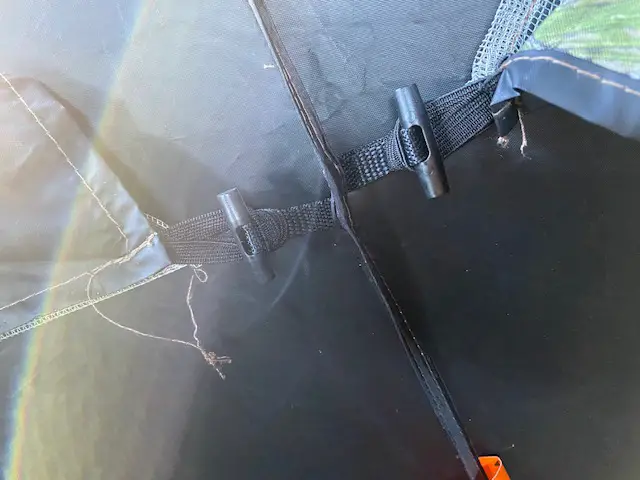 Functionality
The Barronett Blinds Pentagon has windows high and low. They are shaped to keep game from being able to see your full silhouette. They will also allow you to get a shot off from many different positions.
The windows have shoot-through mesh on the outside, and a camo exterior/black interior liners inside of the mesh. All windows and mesh can be open and closed with a quiet loop and toggle system.
I have never shot through the mesh. If you're going to, make sure you are using a fixed-blade broadhead.
One small complaint about this blind is the door. It is just a narrow, zipper entry that runs the height of the blind. It is pretty tough getting through it with your equipment.
I should say that there are blinds from other manufacturers that use this same style of door. It's not the end of the world. Just not super accessible.
The stakes that come with the blind are pretty lightweight. I have had issues getting them to hold the blind on days when the ground was wet and the wind was blowing hard.
Functionality Grade= B+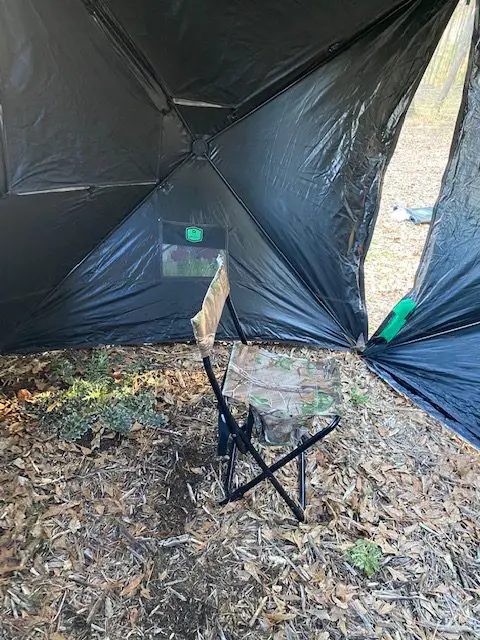 Appearance
Let's face it, if you're using this blind for turkeys, you could get away with it being blaze orange. If you're using it for whitetails, you'll need to brush it in and leave it up well ahead of your hunt. Either way, the camouflage pattern would not make a huge difference.
That being said, the Bloodtrail Backwoods pattern has enough browns and greens to fit in just enough for multiple seasons. To my human eye, it is an attractive enough pattern. It blends in well with most Georgia environments.
Note that if you plan to leave this blind outdoors for long periods of time, the UV rays will eventually fade and degrade the appearance and the fabric.
Appearance Grade=A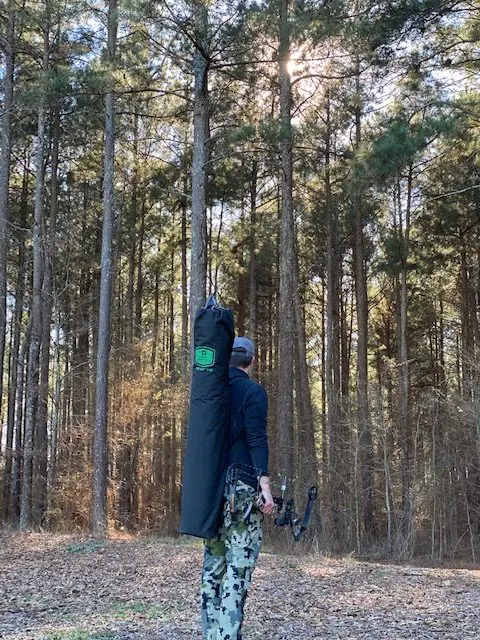 Durability
A common complaint you will read with these blinds is in regard to the construction of them. Some people feel they are cheaply made.
I have never felt this blind was any less rugged than other blinds I have used from brands like Ameristep and Primos. I have never had problems with ripping or fading.
My blind does have pinholes in the fabric. It has had them since the day I bought it. It is not waterproof by any means, but it will keep you dry enough through a light rain.
If you are looking for something waterproof or something you are going to leave out all season, you should probably go with the Heavy Duty Pentagon. You can also apply a seam sealer to help keep water out.
Barronett does offer a one-year warranty on all blinds if you register your purchase with them. According to Barronett, the warranty "does not cover tent tears, bent or broken poles due to use in high wind, inclement weather, unattended use or fading and/or discolored camo is not covered under warranty." Don't shoot the messenger.
Use this link to register your blind or submit a claim.
Durability Grade= B- (Standard); A (Heavy Duty)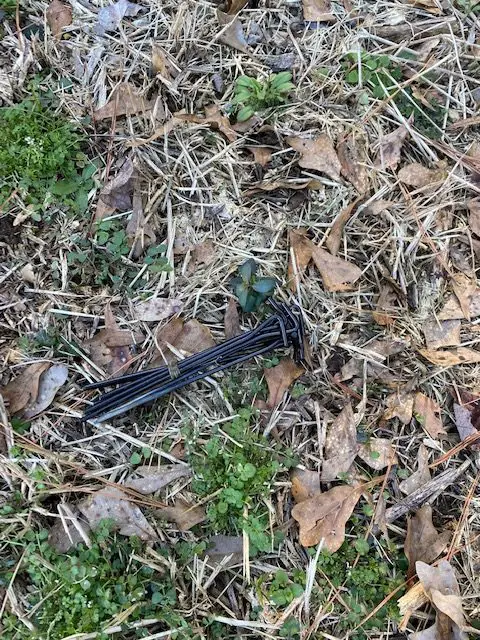 Value
At publication, the Barronett Blinds Pentagon was priced at $199.99 on Amazon (the Heavy Duty is $284.89). Compare this to the Primos Double Bull Surround View Blind at $364.99 and the Ameristep Silent Brickhouse Ground Blind at $109.99 on Amazon.
The Barronett Blind is neither the cheapest blind nor the most expensive on the market. I think at this price point it is a good value. The features and quality are certainly worth the price.
If you plan to leave your blind out for an extended period of time, you might consider a cheaper blind that you can replace every season or the Heavy Duty version which might hold up a little longer.
Value Grade=A+
Overall Rating of the Barronett Blinds Pentagon
The Pentagon by Barronett Blinds provides more interior room than the vast majority of blinds on the market today. At the same time, it can be carried by one person and set up quickly and easily. It is a good blind for providing space in a very portable system.
Most of the features of the blind are comparable or better than its competitors. The windows make it extremely adaptable to different shooting scenarios.
The blind has held up through the hunting rigors that I have placed on it through the years. For the price, it is hard to beat.
If the Pentagon has flaws, it may be in its long-term durability (non-Heavy Duty version), its stakes, its somewhat noisy setup, and its door.
Overall, I would recommend purchasing the Pentagon for any hunter who needs space for multiple people or shooting a bow.
Overall Grade=A