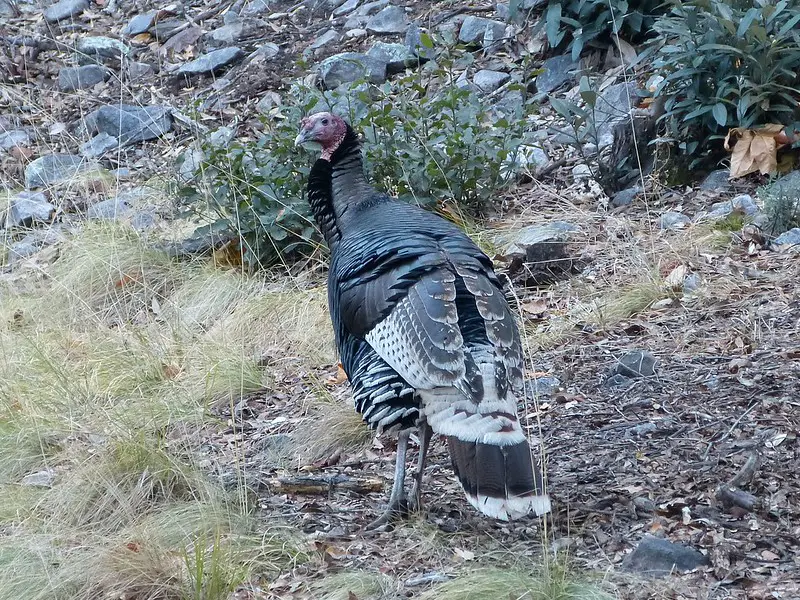 So you completed your Grand Slam. That's great! Now, what's next?
How about completing your Royal Slam by taking a Gould's turkey?
Gould's turkeys are the largest of the wild turkey subspecies. They can be distinguished by their white tail feathers. Like Merriam's turkeys, Gould's live in mountainous habitat. They respond well to calling and decoys.
Where should you go to take these big, beautiful birds? Read on as we explore the different options. Let's start in the US of A and work our way south of the border.
Are there any opportunities to take a Gould's turkey in the United States?
In the late 1800s and early 1900s, the Gould's turkey nearly became extinct in the United States due to overhunting. However, in the 1990s, hunters and conservationists brought Gould's turkeys from Mexico and transplanted them in the United States.
Today, there are more than 1,200 Gould's turkeys in Arizona and New Mexico. Both states even issue tags for them.
For Spring of 2022, Arizona will issue 83 Gould's turkey tags for the spring season (80 shotgun and 3 archery). These tags are good for one turkey. Drawing a tag takes a lot of luck or a lot of time. This is especially true if you are not a resident of Arizona as only ten percent of these tags are issued to nonresidents.
When applying for a tag you must have a valid Arizona hunting license which can become very expensive at $160 a year (non-resident). This is much more palatable if you are already applying for elk or deer every year in Arizona.
Every year that you are unsuccessful in drawing a tag, you receive a bonus point. You can apply for a fall Merriam's bonus point to accrue a total of two a year.
The good news is if you do draw a tag you should have a good chance of completing your royal slam. Most of the hunts have very high harvest rates each year. There are also several outfitters who you can hire to help you should you wish to further guarantee your trophy.
How about New Mexico?
Hidalgo County in southwest New Mexico is home to a small population of Gould's turkeys. There are only two permits issued for Gould's turkeys in New Mexico per year. One is part of a raffle, the other is auctioned off. All proceeds from these tags go back into building Gould's turkey habitat.
With only two tags issued every year, your odds of hunting these birds in New Mexico are very long. However, it never hurts to put in for the raffle. You always have a small chance of drawing and you will continue to help build future opportunities to hunt this subspecies in New Mexico.
So where can you go if you don't want to spend years and years waiting…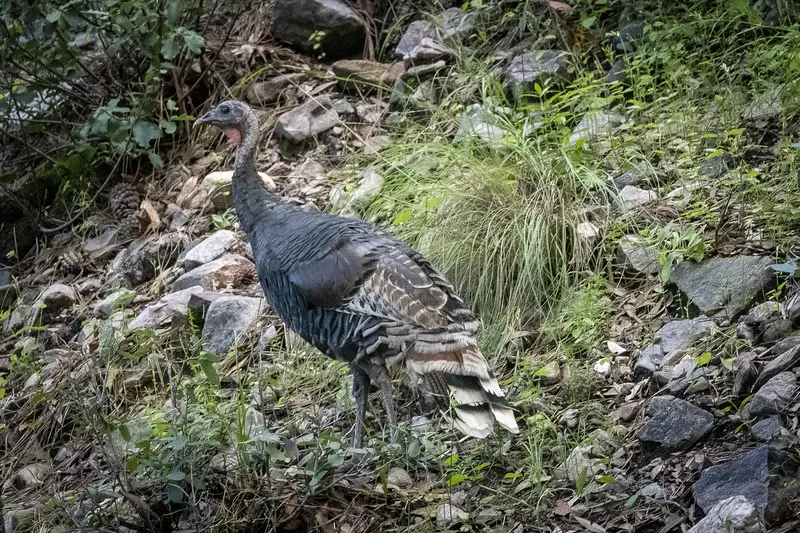 Hunting Gould's Turkeys in Mexico
If you're short on time and long on money, Mexico is your best option for hunting a Gould's turkey. You will need to find an outfitter to put you on the birds and guide you through the legal red tape of hunting in another country.
Many fear traveling to Mexico imagining gruesome scenes from media portrayals. You're probably imagining your Osceola turkey hunt resembling a scene from Narcos Mexico. While there is certainly reason to be cautious, keep in mind that most of the violence in Mexico is not targeted at tourists.
Most hunters report feeling secure during their hunts in Mexico. However, the US Department of State does have travel advisories for the Mexican states with Gould's turkey hunting. Weigh the pros with the cons, bring any concerns to your potential guide, and be cautious and aware if you decide to go.
Some guides will be native English speakers. Others will be bilingual Spanish speakers and some will only speak Spanish. If you are concerned about language barriers, ask the outfitter before you book. Keep in mind that Mexicans are used to American tourists and will not have any trouble communicating with you regardless of language.
There are a number of outfitters who hunt different parts of northwestern Mexico. You will need to make your choice based on availability, price, traveling arrangements, desired level of luxury, number of turkeys you wish to take, and hunt duration.
Regardless of which outfitter you choose, you will find that most have similar success rates. Additionally, most will help you with borrowing or traveling with a firearm and bringing your Gould's turkey cape back to the States.
Availability
When planning your hunt, you will obviously need to find an outfitter with available space. Good outfitters fill up fast.
Keep in mind that the prime dates of mid-April through the end of May will usually be reserved before the early and late season dates. Call as far ahead as possible to get your preferred outfitter and dates booked.
Price
Prices can vary from guide to guide. There are hunts for less than two thousand dollars and hunts that approach the three thousand dollar mark.
The major factors that influence price include demand, accommodations, number of birds you are allowed to kill, hunt duration, and the staff's English speaking proficiencies. Be sure to ask lots of questions before booking your hunt and check references if possible.
Travel Logistics
Some outfitters will have you fly directly into Mexico (usually Chihuahua International Airport). The outfitter will pick you up from the outfitter and drive you out to the ranch.
Other outfitters will pick you up from the airport in Tucson or El Paso. If you have a car, they will have you leave it at the hotel or your guide's house in the United States. They will then drive you across the border to the ranch where your hunt will begin.
Avoid taking your car into Mexico if at all possible. You will most likely have to get additional insurance from your auto insurer to travel across the border. Don't even consider it in anything less than a four-wheel drive vehicle with multiple spare tires on board. The roads can be rough and rugged.
Amenities
Most outfitters provide an all-inclusive experience with travel, food, and lodging all included with your hunt. However, the level of luxury can vary from a cot in a cabin to a modern feeling lodge with gourmet food. Pick the experience that meets your wishes and your price range.
Number of Gould's Turkeys Harvested
A typical guided, Mexican hunt allows for the harvest of one Gould's turkey per hunter. Some outfitters will only allow you to take the one bird in an effort to keep turkey densities higher on their ranch. Others will allow you to take a second bird for an additional trophy fee.
If harvesting multiple gobblers is important to you, be sure to ask your guide about this before booking.
Hunt Duration
Hunts can vary from a couple of days to a four or five-day event. Some outfitters will help you travel home after you have filled your bag even if it is shorter than the originally planned hunt.
On the other hand, other outfitters will require you to stay until the other hunters in camp have tagged out or the originally planned hunt duration is completed.
Success Rates
The good news is if you spend a grand or three on a trip to Mexico, you have a good chance of completing your Royal Slam with a Gould's turkey. Most outfitters advertise nearly 100 percent success rates on their websites.
Firearms
Getting your firearm into Mexico can be a pain. Many of the outfitters will help you navigate the red tape of obtaining the proper permits. Keep in mind that you will have to pay for the permit.
Most outfitters will provide you with a gun that you can use for your trip. This will probably be your easiest and cheapest option if you can be without "old trusty" for a hunt. Don't worry, most of the guns will be nice and new with a high-quality choke and premium ammunition.
Getting your Trophy Home
The USDA will not allow you to bring your turkey meat back to the States with you. Ask your outfitter what they will do with the meat. Some donate it to the local communities, while others will cook it for you while you are still in the country.
Your outfitter should help you cape your turkey and prepare the cape for getting it back home. They will also help you get it through customs and to your local taxidermist (make sure to have your taxidermist's USDA number). Some outfitters will charge an extra fee to cape your Osceola turkey while others include it in the hunt price.
Conclusion
If you really want to take a Gould's turkey and complete your Royal Slam, you will have to choose one of these three locations. As you can see there are pros and cons to each. Each location is a different tradeoff in cost, patience, and bravery.
The hardest thing about killing a Gould's turkey is getting the opportunity. Once you are out there, all the options have very high success rates. So go ahead, choose an option, and get started applying for tags or calling outfitters.
If you enjoyed this article, you might enjoy reading about hunting another turkey in Mexico, the Ocellated turkey.