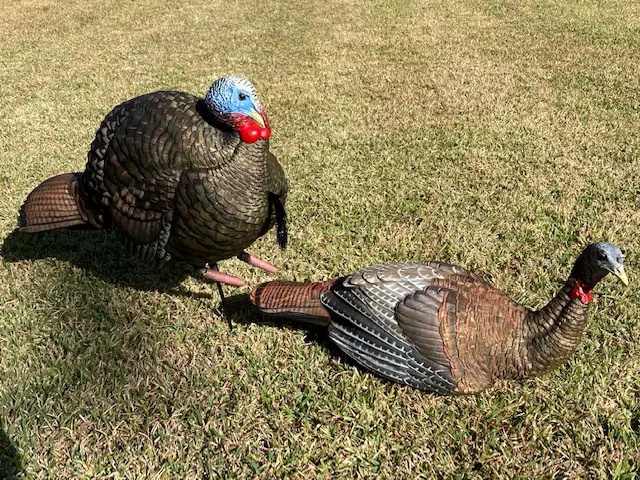 *Note: This article may contain affiliate links. If you find this information useful, please consider purchasing through these links. When you do, we receive a small commission at no extra cost to you which allows us to continue producing top-quality content. We only recommend products that we use and trust.
The Avian X turkey decoy by Zink is one of the highest quality imitations on the market today. With about a dozen different models, Avian X offers a turkey decoy configuration for almost any situation. But are these decoys worth their lofty price tag?
My brother has owned an Avian X half strut jake and a laydown hen for several years now. I have borrowed them on quite a few occasions. This review is based on our experiences with them.
After a brief overview, I provide a grade on several different aspects of the decoys. Hopefully, this article will help you make an educated decision on whether or not to purchase one of these decoys to help you out this spring.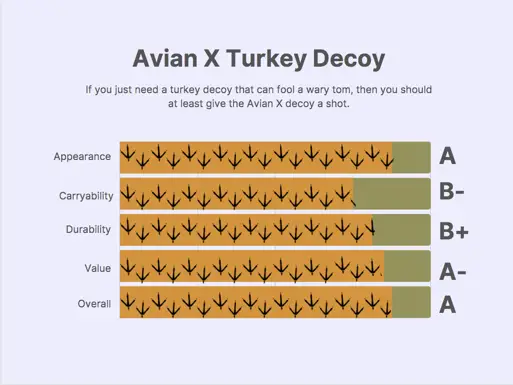 Overview of the Avian X Turkey Decoy
Each Avian X turkey decoy is inflatable by pump or mouth. They do take a good bit of air to inflate. The decoy comes with a carry bag that will fit a fully inflated decoy as well as a lightweight stake. The hen decoy came with velcro straps to compress it in it's collapsed form.
Models include a half strut jake, a quarter strut jake, a strutting tom, a breeder hen, a feeder hen, a lookout hen, and a laydown hen. The decoys I have experience with are the half strut jake and the laydown hen.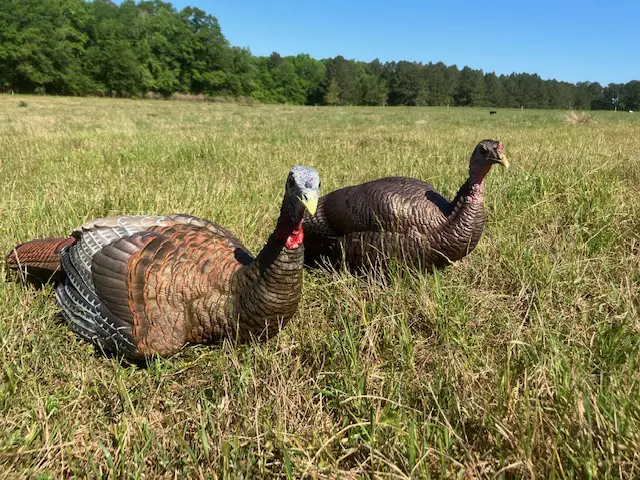 Appearance
The appearance of these decoys is flawless. In fact, these decoys look so realistic, I would never take a jake or tom decoy on public land. You are bound to get some other hunters putting the stalk on these guys.
The jake has a plastic beard that can get a little funky, but a little adjustment will keep it looking natural. This is one of the only decoys I have seen that has parts of the leg on the decoy. Is this really necessary to bring a tom in? Well, it can't hurt!
In the sunshine, I swear the sheen off the decoy looks just like real feathers. Both the hen and jake decoys do not miss a single detail. The decoys are a little smaller than a real turkey so as not to intimidate real turkeys.
The one issue I have with appearance is related to the way the jake mounts on the stake. The decoy seems to be a bit too heavy for the stake in some situations such as a soft soil. The jake will tilt strangely to the side if you don't get the balance just right. You can certainly work around it, but it may take a couple of tries to get it right in the field.
The only other decoys on the market that can really compete with the realistic appearance of the Avian X decoys are the Dave Smith Decoys.
Appearance Grade= A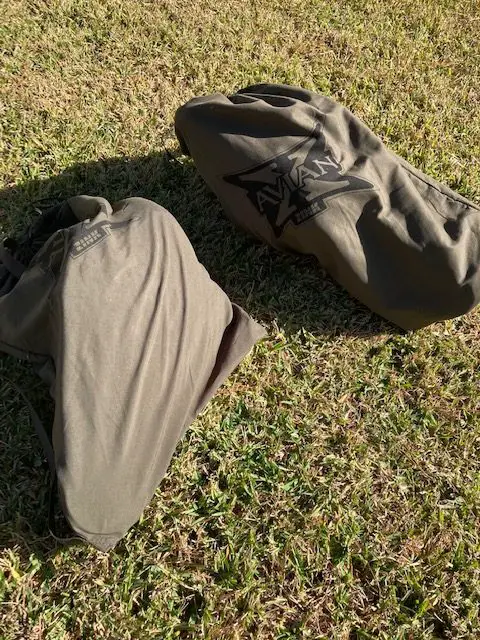 Carryability
Even though they are inflatable, the Avian X turkey decoys are still heavy. Because the material they are made from is heavy duty, they tend to weigh more than alot of the other models on the market. I put them on our cheap bathroom scale and got roughly 4.5 pounds for the jake and 2.5 pounds for the hen. This was not the most scientific study, but that feels close to accurate to me.
I have always carried the decoys inflated, as I do not like to spend time in my hunting area trying to blow up and fold decoys. There is no way that I could fit both decoys in my vest when they are inflated. Fortunately, they come with carry bags which are quiet and a green color that blends well.
These are not the decoys you want to carry for miles. However, you will hardly notice packing them in up to a quarter of a mile in their carry bags.
Carryability Grade= B-
Durability
If you're like me, you were probably immediately skeptical of an inflatable decoy. However, once I got my hands on these decoys my skepticism faded. As mentioned above, this is a heavy duty material that these decoys are made from. That's not to say you should go out and pump a full load of TSS into them at 30 yards, but they should hold up to the normal vigors of turkey hunting.
My brother has left his decoys inflated almost the entire time he has had them and never had any issues with leaks. However, if you search the internet, you will find that this is the number one complaint about these decoys. Some users have issues with the valve stems leaking while others have leaks in other areas.
I have read where consumers have had mixed results in dealing with Avian X's customer service. I certainly would recommend calling them if you have an issue with your decoy. They may replace it or at least explain the best way to repair it.
If you don't have any luck with customer service, I have heard of several methods for repairing a leaky decoy. Try Slime or Fix-a-flat that you would use for a flat tire. I have no idea what this will do for the integrity of the decoy long term (probably not good), but a flat decoy is worthless anyways. Other suggestions I have read include Aquaseal and hot glue.
The paint holds up well against normal use. We always carry ours in the bag and I can't find any scratches after several seasons.
We have never had any issues with my the stake for my brother's decoy, but it seems like a wise investment to buy a backup stake just in case. I could see either the stake itself, or the little "tent-pole" style elastic that holds the two pieces together giving way after some extended hard use.
Durability Grade= B+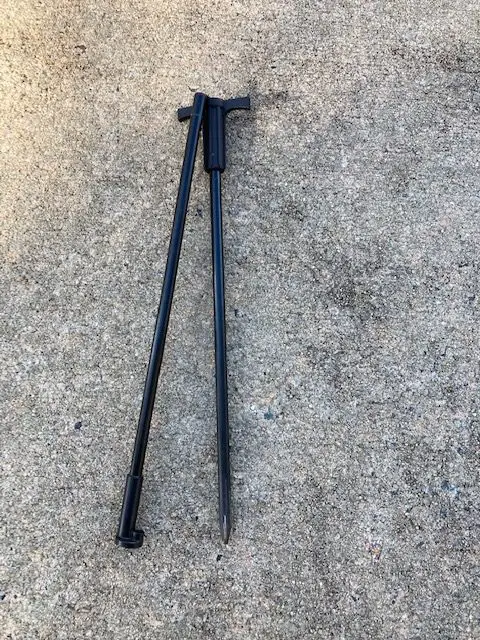 Value
Avian X turkey decoys are definitely not the cheapest on the market. However, you are getting one of the highest quality decoys on the market.
At the time of publishing, the Avian X Turkey Decoy Half Strut Jake is priced at $129.99 on OpticsPlanet. This is quite a bit cheaper than the Dave Smith Decoys Three Quarters Strut Jake Decoy which is priced at $189.95, but much more expensive than the Primos Hunting Gobbstopper Jake Turkey Decoy priced at $46.89.
For me this is a good value. If you are hunting birds that have not seen much hunting pressure and decoys, then you might consider going with a cheaper brand of decoy. However, if you want a super realistic decoy without paying the premium price the Dave Smith Decoys demand, then then Avian X presents a really good value at this price point.
Value Grade= A-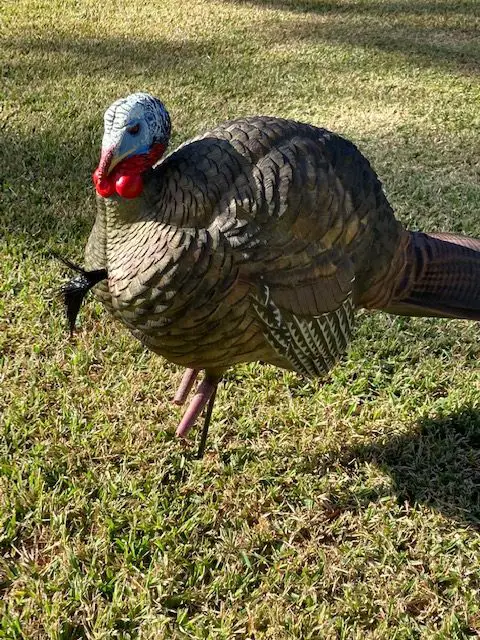 Overall Rating of the Avian X Turkey Decoy
I think that the Avian X turkey decoys meet the needs of a lot of turkey hunters.
For your average hunter who doesn't plan to run a marathon with a turkey decoy in his vest, the Avian X carries well enough.
For all the folks who have had issues with the decoys leaking, you will find exponentially more who have been happy with their decoys durability.
It would be hard to find a decoy any better looking than these, especially for the price.
My brother has enjoyed these decoys since he got them several years ago, and I have never had any complaints in my uses either. If you need an ultra-lightweight decoy, then the Avian X turkey decoy is not for you. If you want the finest turkey decoy that money can buy, you should probably consider the Dave Smith Decoy too. But if you just need a turkey decoy that can fool a wary tom, then you should add an Avian X to your spread.
Not sold on Avian X Decoys? Read my review of DSD Decoys here.
Overall Grade= A