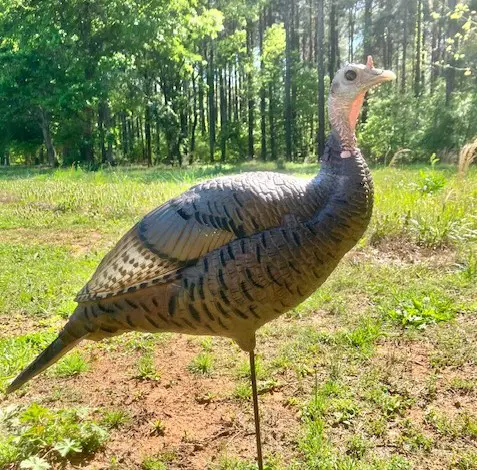 *Note: This article may contain affiliate links. If you find this information useful, please consider purchasing through these links. When you do, we receive a small commission at no extra cost to you which allows us to continue producing top-quality content. We only recommend products that we use and trust.
DSD Decoys have long been considered the gold standard in turkey hunting decoys.
Dave Smith was an industrial sculptor for FILA (yes, those tennis shoes you had in the 90s) when they decided to close their Oregon branch. An avid goose hunter, he decided to start his own decoy business instead of relocating to a different FILA office or starting a new job.
Originally marketed as "Zombie Decoys," embarrassed customers continued to refer to Smith's product as Dave Smith's Decoys. Smith finally went with the flow and branded his artwork as Dave Smith Decoys or DSD Decoys.
Since then, DSD Decoys has grown to become a nationwide supplier of waterfowl, turkey, and deer decoys.
Recently, my wallet has grown big enough to give this "Made in the USA" product a shot. I purchased the DSD Upright Hen and had a chance to take it on a hunt. Here are my first impressions.
Note: I was not paid or sponsored by Dave Smith Decoys to write this review. I bought my DSD turkey decoy with the allowance from my piggy bank.
Appearance
DSD Decoys look real! Incredibly real. Too real. Don't use them on public land kind of real.
Known for their excellent appearance, DSD's paint schemes are impossible to beat. If you've only ever hunted with cheap decoys, you will be blown away by how amazing DSD turkey decoys look.
When I was hunting with my DSD turkey decoy, I would look away from the decoy. When I turned back I would startle myself thinking that a real turkey had snuck up on me.
In my opinion, these decoys are more realistic than Avian X, Deception, Primos, Flextone, etc. If you want the best-looking decoy, DSD has it.
Appearance Grade= A+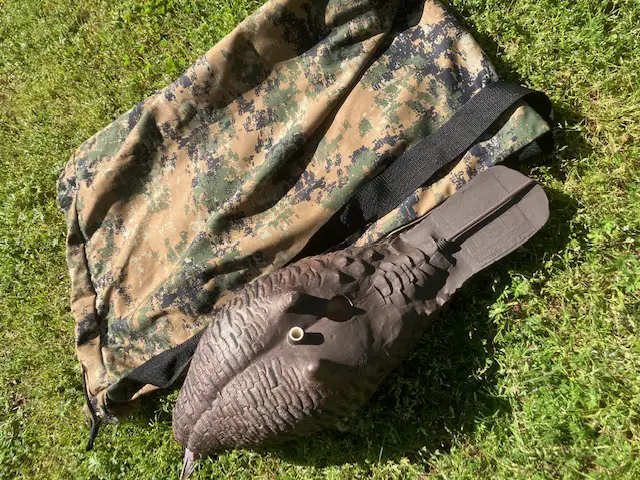 Carryability
One drawback of DSD turkey decoys is their carryability. They are not very light and they are also pretty stiff compared to other decoys out there. To me, they are best carried in the bag that comes with the decoy.
These decoys aren't really made for running and gunning. You'd have a hard time fitting more than one into the back of a turkey vest (though I'm sure someone has). They are ideal for field hunts where you can get close to your setup with a vehicle.
One thing I really like about DSD Decoys is the fact that the stake stores away in the decoy body. It keeps the stake secure and silent. It also prevents the stake from getting lost. If you don't understand why this is a benefit, you've never tried finding the perfect stick to put your decoy on in the dark because you lost the stake.
Carryability Grade= C
Durability
DSD decoys are extremely durable. While almost all other decoys are made from polyethylene, DSD Decoys are made with A.C.E. Technology (Advanced Crosslink Elastomer). DSD has been developing it since 2007.
There are a number of benefits to the A.C.E. construction. First, DSD turkey decoys will maintain their shape even in the coldest of weather. It also has the memory to bounce back if it is bent or pressed for extended periods of time.
Another benefit to the A.C.E. technology is that it is practically bulletproof. That's right, even if you accidentally get some shot in your decoy (it will happen if you shoot a tom off the top of your jake decoy), the decoy will show very little damage.
Durability Grade= A+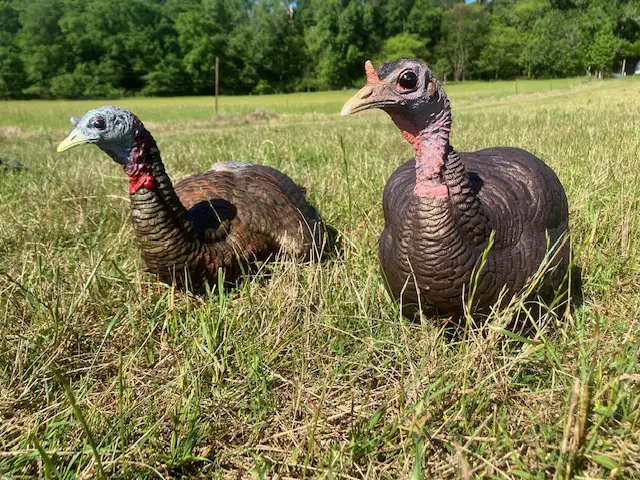 Value
While most people will recognize the amazing appearance of the DSD turkey decoys, many will first notice the price tag on them. Hens retail for about 150 dollars. The cheapest jake decoy retails for about 190 dollars, and the strutter decoy retails for about 240 dollars.
Finding used Dave Smith Decoys for sale on eBay or a forum is next to impossible. You will rarely (if ever) see a sale on them at any retailer. And why would you? They are durable, realistic, and un-gimmicky (is that a word?).
We're certainly not talking pocket change for these decoys. However, there are a couple of reasons that I would still consider the DSD Decoys a good value.
As mentioned previously, you're not going to find a better-looking or more durable decoy. In this day and age, it is more important than ever to have as realistic a decoy as possible. And you know the old saying, "buy once, cry once." If you settle for a less expensive brand, you will be wanting to upgrade or replace it in a few years.
Value Grade= A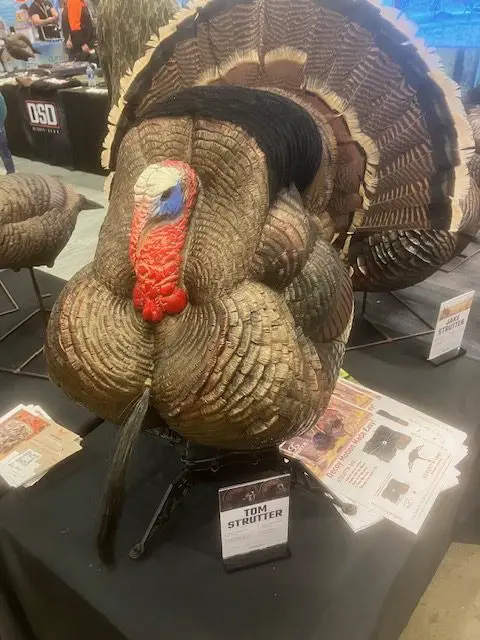 Overall Rating
So far, I'm extremely happy with the purchase of my DSD turkey decoy. These decoys are great for anyone who:
Wants the most realistic-looking decoy on the market today.
Needs a decoy that will last a long time and hold up to hard hunting.
Is willing to pay a steeper price for a quality product.
These decoys are not a good choice if you:
Don't have a lot of money to spend on turkey decoys.
Do a lot of "run and gun" style hunting.
Hunt in an area where there are a lot of dumb (calling them as I see them) hunters who might shoot an incredibly realistic decoy.
Overall Rating= A+
Final Thoughts on DSD Decoys
If you have the money, you can buy DSD Decoys by the pair or as a "flock" for a small discount. It's a good option for those just getting started.
Only have the cash for one? I recommend the Upright Hen. You can use the Upright Hen all season and on public land (I would advise against using tom turkey decoys on public land). You can also stake her low, and she will resemble the Mating Hen. So you basically have two decoys in one.
For a second decoy, I would buy one of the jake variants that DSD offers. This gives you the ability to challenge the hierarchy of your turkeys and draw a dominant tom in places where he might be thrown off by an un-moving, single hen.
Regardless of which decoy or decoys you choose, I know you're going to be impressed with the quality of your new DSD decoy.
Not sold on DSD turkey decoys? Read my review of Avian X Decoys here.
References