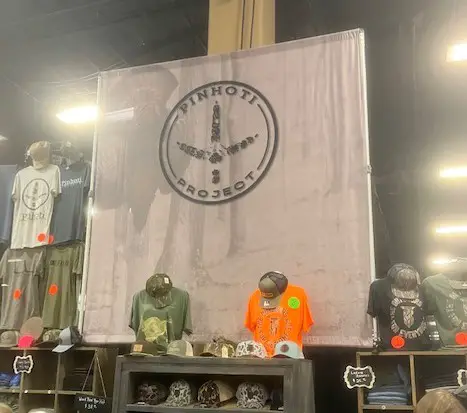 *Note: This article may contain affiliate links. If you find this information useful, please consider purchasing through these links. When you do, we receive a small commission at no extra cost to you which allows us to continue producing top-quality content. We only recommend products that we use and trust.
It's the American Dream. Starting with nothing and working your way up to turkey hunting celebrity status. That's right, I'm talking about Dave Owens of the Pinhoti Project.
Almost any avid turkey hunter will know Dave and his buddies from their YouTube show. However, few know how Dave got his start in the turkey world. Read along as I cover Dave Owen's background and accomplishments and explain why the Pinhoti Project is so much more than just a turkey hunting show.
Dave Owens Background
Dave Owens grew up in Northwest Georgia in Acworth. He caught the turkey hunting addiction as an early teen, killing his first turkey at 13 years old.
After traveling to Florida to hunt turkeys during his freshman year of college, he found his passion for hunting in new places. Thus began his quest to kill a gobbler in all 49 states (Alaska does not have wild turkey hunting). Owens achieved this task in 2017 completing the NWTF's US Super Slam.
In 2012, Owens started entering turkey calling contests. He won the Georgia State Championship before going on to win the 2018 NWTF Grand National Championship Senior Open Division Turkey Calling Competition in Nashville at the NWTF's Annual Convention. This is considered the highest achievement in turkey calling.
Owens currently lives in Cherokee, Alabama. For a while, he worked in his cousin's pest control business which allowed him to pursue his turkey-hunting passions for three months out of the year.
Dave Owens Accomplishments
Winner of the 2018 NWTF Grand National Championship Senior Open Divison Turkey Calling Competition
Georgia State Champion Caller
Completed the NWTF US Super Slam in 2017
Founded the Pinhoti Project in 2018
All About the Pinhoti Project
The Pinhoti Project is a YouTube show and a brand of hunting clothing and accessories. Here is the mission as stated on the website:
---
"The Pinhoti Project is here to showcase a more simplistic way of hunting, more specifically the hunting of the wild turkey. A way that is available and easily obtainable for all of us, achieved through effort- not fortune and gadgetry. The focus remains on the quarry, as it should."

— About Pinhoti. The Pinhoti Project. (n.d.). Retrieved April 14, 2023, from https://pinhotiproject.com/about-the-pinhoti-project/

---
Pinhoti Project YouTube Channel
As of the publishing of this article, the "Dave Owens: the Pinhoti Project" YouTube channel had over 40 thousand subscribers. These subscribers tune in to see more than 400 videos on the channel.
The videos show the crew hunting in different states around the country. You can count on great calling, some humor, and a celebratory cheap cigar after every turkey kill.
Featured Cast Members
In addition to Owens, the show regularly features Kenny Mount, Courtenay Conring, "Squirrel," "Sleazy," and Dave's brother, Drew.
Courtenay Conring
Courtenay Conring is Dave Owens' girlfriend. Dave found a woman of his own heart as she regularly accompanies him on his turkey hunting travels.
She not only enjoys spending her time outdoors with the Pinhoti Project, but she is also a full-time WMA Biologist for the Alabama Wildlife and Freshwater Fisheries Division. She graduated from the University of Georgia where she earned her degrees in biology and forestry.
Kenny Mount aka "Chubbs"
Kenny Mount, better known to his fans as Chubbs, is a building supply salesman who lives in Alabama. He's also a turkey-killing machine who has completed the US Super Slam.
He began turkey hunting in his teens and after several years of learning under his mentor, finally killed his first turkey. The fire was lit and he dedicated his life to becoming a great turkey hunter.
Mount is one of the funniest people on the Pinhoti Project. Surprisingly, he has no social media so his primary exposure is through the videos on YouTube.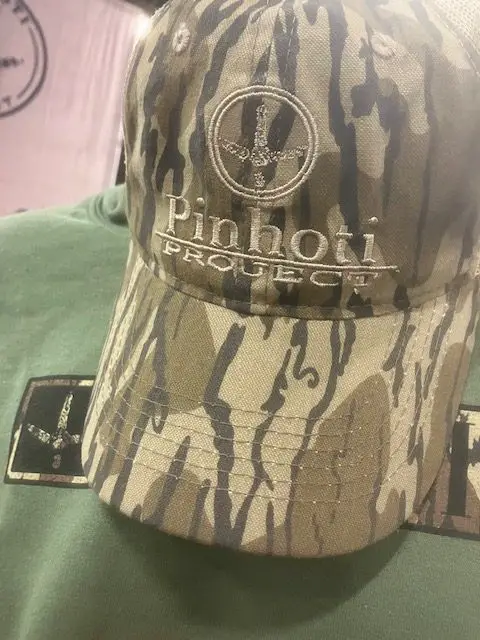 Pinhoti Project Store
On the website, the Pinhoti Project sells a number of different turkey hunting-related items. If you attend the Annual NWTF Convention in Nashville, they also have a large booth with tons of gear!
They sell branded turkey chokes in both 12 and 20-gauge in ported and non-ported versions. They also sell branded pot calls and mouth calls in several different materials.
On the apparel side, the Pinhoti Project offers a lot of different hat choices. They have everything from unstructured hats to Richardson trucker hats to panel rope hats. There are old-school Mossy Oak Bottomland patterns, solid colors, and many other varieties. Truly something to meet almost any turkey hunter's taste.
Just like the hats, Pinhoti Project also offers a variety of t-shirts and hoodies featuring camouflage and solid color patterns. Prices start in the 20-35 dollar range for tees and run up to 40-50 dollars for a hoodie.
References
About Pinhoti. The Pinhoti Project. (n.d.). Retrieved April 14, 2023, from https://pinhotiproject.com/about-the-pinhoti-project/
Our team. Turkeys for Tomorrow. (n.d.). Retrieved April 14, 2023, from https://turkeysfortomorrow.org/our-team/
Owens, D. (2018, March 22). Embrace the challenge of turkey hunting unknown property. Mossy Oak. Retrieved April 14, 2023, from https://www.mossyoak.com/our-obsession/blogs/turkey/embrace-the-challenge-of-turkey-hunting-unknown-property
Phillips, J. E. (2019, March 5). Public Gobblers with National Champ Caller. Georgia Outdoor News. Retrieved April 17, 2023, from https://gon.com/hunting/public-gobblers-with-national-champ-caller
Thompson, C. (n.d.). Hunting & hair bows: Courtenay Conring. The Women's Outdoor News. Retrieved April 25, 2023, from https://www.womensoutdoornews.com/2023/03/hunting-hair-bows-courtenay-conring/