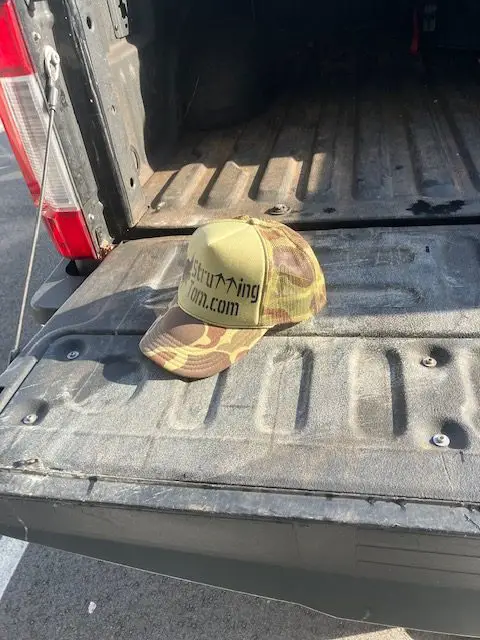 *Note: This article may contain affiliate links. If you find this information useful, please consider purchasing through these links. When you do, we receive a small commission at no extra cost to you which allows us to continue producing top-quality content. We only recommend products that we use and trust.
I'm a hat guy. I've got a hat rack full of them. My wife is always trying to get me to get rid of old hats. She can't believe it when I buy more hats. (Note: I don't say anything about her shoes.)
I have a number of different turkey hunting hats that I will wear for different occasions. Hats I will wear on warm days. Hats I will wear on rainy days. Hats I will wear on cold days. I have hats that I wear to work in. Hats I wear out on the beach. Certain hats, I will wear to the store.
No matter your hat needs. I have broken it down to a number of different turkey hunting hats that will fit any occasion. Read on to find out my favorite boonie hats, baseball-style turkey hunting hats, cold weather hats, and hats for after the hunt.
Turkey Hunting Boonie Hats
If you regularly forget your face mask, this hat might be the one for you. The Ol' Tom Big Bob Boonie Hat comes with a breathable face mask attached to it. When you're not using the face mask, you can tuck it up into the top of the hat.
This turkey hunting boonie hat is also waterproof to keep the rain off your head on those wet weather hunts. The wide 2″ brim will also keep water and sunlight off your face.
This hat comes in Mossy Oak Bottomland, Mossy Oak Obsession, and Realtree Timber so you should be able to blend in during any season.
Like most Nomad products, this turkey boonie hunting hat is lightweight and breathable. It is designed to keep you comfortable. The wide brim is gray under the visor to keep the sun from glaring in your eyes.
If you have a big head, this one size fits most hat might not be the best choice for you. Otherwise, the adjustable chin strap should keep you from losing it on a windy day.
This hat comes in Mossy Oak Bottomland and Shadowleaf. If you like a boonie-style hat and you don't want an attached mask, this is probably a good choice for you.
Baseball Style Turkey Hunting Hats
Nothing fancy about this hat. It's just a good old, trucker cap with a Bottomland front and a beige back. Every turkey hunter should have a turkey hunting hat like this.
Keep the sun out of your eyes and your head out of the turkey's eyes with a camouflage baseball-style cap. This hat by Ol' Tom features a curved bill and low profile structure.
At less than 20 bucks (at the time of publishing), you can buy this one and still have money to spend on more turkey hunting hats on this list.
If you want that vintage turkey hunting hat look, this hat by Nomad fits the bill (pun intended). A rope, snapback, and original Bottomland design have you looking just like your old man the next time you hit the woods.
Unlike your pappy's hat, this one is outfitted with breathable materials to wick moisture away from your noggin. Like the Nomad boonie hat above, it also features a gray underbill to keep the glare out of your eyes.
My one complaint about this is the white color used for the rope and turkey decal. I generally try not to wear red, white, or blue in the woods so I'm not mistaken for a turkey by another hunter.
Cold Weather Turkey Hunting Hats
I love these little hats. They are so lightweight, but they can provide great warmth on early-season turkey hunts.
Made of merino wool, this turkey hunting beanie is very comfortable. I will generally pull them over a baseball cap so I still have a bill to shadow my face from the sun. As the day warms up, I will slip the beanie into my pocket and roll with just the baseball cap.
These hats are so versatile, it's worth keeping one in your hunting jacket or your turkey vest at all times. Keep in mind that because these hats are made of merino, they will still be warm even when they are soaking wet.
If you're ever hunting turkeys in extreme cold, then this beanie is for you. Trust me when I tell you it is overkill for 99.9 percent of turkey hunting scenarios.
This hat from Sitka will protect you from the harshest winter elements. It combines a Windstopper membrane with PrimaLoft insulation and a fleece lining. That is warm.
I hope you never need this hat for turkey hunting. But if you should find yourself in a very cold place, you will be very glad you have this hat.
Hats For After the Hunt
If you're looking for a good-looking hat that you can wear around town that still lets everyone know you're a turkey hunter, this might be the one for you. The simple design of the logo is just subtle enough to make a statement.
The trucker-style, snap-back comes in gray and black as well as a khaki and coffee color. The Speedy Pros embroidery combined with a Richardson cap creates a high-quality hat that should last.
Similar designs to this have been popping up from brands such as Burlebo and Duck Camp. A single game animal decal on a rope hat is a pretty popular accessory these days.
If you want to fit in, this hat from Nomad is a little more modern looking than some of the designs from other companies. It's also a bit more functional in hot weather with a vented back.
Want a camouflage version of this hat? Nomad also makes this hat in Bottomland and Shadowleaf.
Conclusion
This list is just a small sampling of some of the best turkey hunting hats. There are tons of cool options out there from a number of different manufacturers.
Whichever you choose, there is no reason not to have your head covered with a quality hat this turkey season. Do you have a lucky hat you wear hunting? Let us know about it in the comments below.
If you enjoyed this article, you may also enjoy my review of the Nomad Stretch-Lite pants.