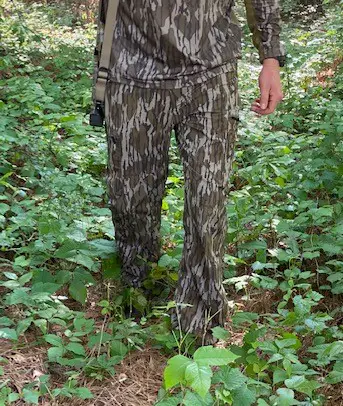 *Note: This article may contain affiliate links. If you find this information useful, please consider purchasing through these links. When you do, we receive a small commission at no extra cost to you which allows us to continue producing top-quality content. We only recommend products that we use and trust.
The Nomad Stretch-Lite pants are some of the most popular turkey hunting pants on the market. Many hunters trust them to keep them cool during warm spring hunts.
These pants generally retail for about 100 dollars. That's a little rich for my blood. But I sucked it up and bought a pair to see if they were as good as advertised.
I wanted these pants to camouflage me well, keep me comfortable in the heat, and hold up to the rigors of turkey hunting. After wearing these pants, here are the pros and cons of these pants. Scroll on for my full review.
Color
Mossy Oak Bottomland! Is there anymore to say?
It seems Bottomland is all the rage these days. Everyone wants to relive the glory days in Mossy Oak's original camouflage (introduced in 1986), but it's also a really versatile turkey hunting pattern. It blends into the woods really well from both close and long distances.
Nomad also offers the Stretch-Lite in Realtree Timber, Realtree Edge, Mossy Oak Break Up Country, Mossy Oak Greenleaf, Mossy Oak Shadowleaf, and Veil Cervidae.
Don't put too much thought into whichever pattern you choose. Pick the one that best matches the area you plan to hunt the most.
I have not noticed any fading on my pants yet. They still look the same to me as when I bought them.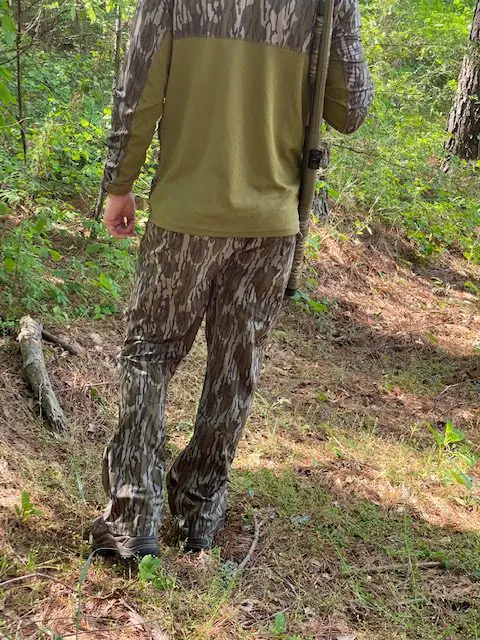 Fit and Comfort
I'm 6'1″, 195 pounds. I normally wear a 34×32 pants size. I bought the size Large from Nomad.
The Nomad Stretch-Lite pants feel good around my waist. Not too tight, but I don't have to wear a belt to hold them up either.
The length is good for a pair of hunting pants. They are longer than I would wear in a dress or casual wear pants, but they're meant to blouse around a pair of hunting boots.
There is plenty of room in the seat, crotch, and legs. These are not cut like modern pants with tapered legs. The full legs are designed to go over boots.
My Kuiu Attack Pants are cut in a more athletic fit. I actually found the Nomad pants to be a bit more comfortable than the Kuiu pants because they are a bit looser.
The Nomad Stretch-Lite pants are made of a material that is very soft and (as you might imagine) stretchy. You won't feel constricted crawling, squatting, sitting, or standing. You shouldn't chafe in them either. They almost feel like a pair of jogging pants.
The material is so light and breathable. A fabric any lighter would be see-through. These are comfortable well into the high 70s. The only pants I can imagine being cooler are mesh leafy suits, which aren't as soft. As you sweat, the pants wick moisture away from your body.
In a heavy due or light rain, the pants will repel water. Because of how thin the material is, they also dry very quickly if they do become saturated.
Durability
The first thought that went through my mind when I touched these pants was, "there is no way those will hold up in the woods." I stand corrected.
The Nomad Stretch-Lite pants are amazingly tough. Hard to believe that a pair of thin polyester pants hold up to the wear and tear of hunting like they do.
On top of their abrasion resistance, they are also stain-resistant. Probably not the first feature I would be concerned with in a pair of hunting pants, but it's nice that the pants still look as good as they did the day I bought them.
If you're looking for warm-weather pants that hold up, you can feel confident in the Nomad Stretch-Lite.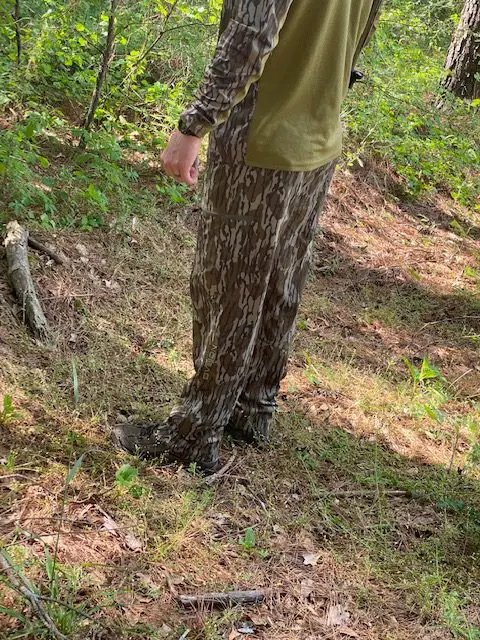 Nomad Stretch-Lite Pants Features
The Nomad Stretch-Lite pants are fairly quiet. They have a slight "swish" to them as the legs brush against each other. Definitely louder than cotton, wool, or fleece pants, but not so loud that you can't sneak through the woods with them.
They feature six pockets including two back zip pockets, two front open pockets, and two cargo zip pockets. All pockets are vented for even more breathability.
The front pockets easily fit your basic smartphone in them. You could also slide your phone into the zippered cargo pockets. Unfortunately, the cargo pockets are not big enough to fit most box calls, though they could fit a pot call and striker.
Conclusion
Nomad has outdone itself with these pants. It's hard to believe they created a pant this tough and comfortable.
These pants are awesome for 90 percent of the hunts I go on in the southern parts of the country. If it is a bit cooler, I can always slip a merino wool base layer underneath.
Though these pants are on the more expensive side, I think the quality and features make it worth the premium price. I recommend the Nomad Stretch-Lite pants to anyone who needs a good pair of warm-weather hunting pants.
If you found this article useful, read my full article on what to wear turkey hunting.