*Note: This article may contain affiliate links. If you find this information useful, please consider purchasing through these links. When you do, we receive a small commission at no extra cost to you which allows us to continue producing top-quality content. We only recommend products that we use and trust.
If you are just getting started in the sport, you most likely are a bit nervous about what you should wear turkey hunting. One, you don't want to embarrass yourself in front of your hunting friends and anyone you may encounter in the woods. Second, you don't want to mess up your hunt before you even start by wearing the wrong clothing. Third, you want to be comfortable so you can enjoy the hunting no matter the conditions.
Set your mind at ease because, in this article, I will address all of those concerns so that you will at least be confident in your wardrobe the first time you hit the woods.
A primary consideration when choosing your wardrobe should be a turkey's vision. According to Kenzie Bradshaw, a turkey can see eight times further than a human being. Turkeys have an extreme ability to pick up movement. I have been busted by wary turkeys more times than I can count. For this reason, we must choose clothing that doesn't stand out to a turkey.
A second consideration is comfort. If you are not comfortable, you won't be able to sit still. Or at least not for very long. A key to turkey hunting is being in the woods as much as you can. You're not going to want to spend much time outdoors if you're miserably uncomfortable.
The first clothing items we will look at are essential for keeping you warm on cool, early-season hunts.
Base Layers to Wear Turkey Hunting
If you are hunting during the late season or during a warm-weather hunt, you likely won't need a base layer. I generally will only wear a base layer if the temperature is sub-50 degrees Fahrenheit.
My favorite choice for a base layer is merino wool. It retains its warmth regardless of whether it is wet or dry. It is also extremely comfortable and naturally, odor resistant.
Many different brands carry merino now. From hunting brands such as Sitka, Kuiu, and Kryptek to non-hunting brands such as Smartwool and Icebreaker, it really doesn't matter which you choose as long as it has a fairly high percentage of merino wool. While a small percentage of other fibers may help your clothing hold its shape, beware of value brands with less than 50 percent merino wool.
A secondary option is polyester blend clothing. Think UnderArmour and similar style clothing. While polyester will also help you maintain warmth while it is wet and is extremely breathable, I don't find it to be nearly as comfortable.
Choose whichever option fits your budget preferences. Don't worry about the color of your base layer as it will be hidden by shirt and pants.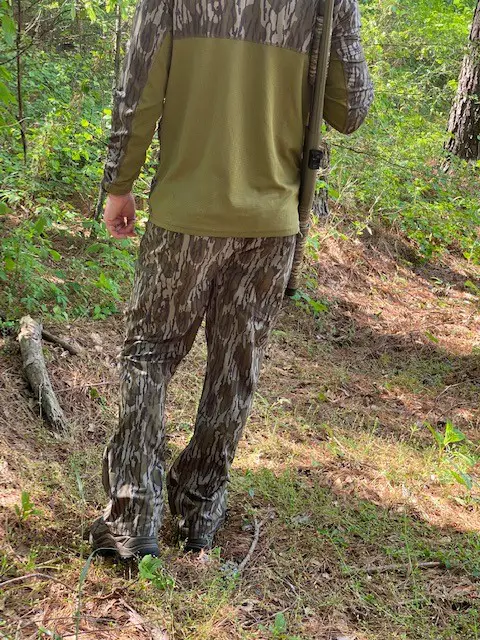 Shirts and Pants to Wear Turkey Hunting
There are hundreds of styles of shirts and pants that are great to wear turkey hunting, but I will try to cover the most popular and functional options.
While your great-grandpappy may have gotten away with wearing his blue jean overalls to kill turkeys, he likely was not hunting turkeys under the amount of pressure that today's turkeys are under. He may have not followed the same regulations we must follow today.
You can certainly get away with wearing earth tones from brands such as Carhartt or Eddie Bauer, but most serious turkey hunters wear camouflage shirts and pants to blend into the environment.
In general, camouflage patterns with more green are better for later in the season, while patterns with more brown are better earlier in the season. However, if you only have one set of camouflage, don't fret. You're in the same boat as a lot of hunters. Pants and shirts of different patterns are fine as well. As long as you're not wearing your wife's Lulu pink yoga pants and you stay still with a good setup, you can kill turkeys.
When it comes to choosing a shirt to wear turkey hunting, you will want long sleeves to further hide yourself. I like to choose breathable shirts that are comfortable in hot weather but can be worn with a jacket over it or base layers under it if the weather is cooler. The Nomad Pursuit shirts and the Ol' Tom Meshback Flyweight shirt both fit this bill.
Turkey hunting requires being on the ground a lot. For this reason, I like to choose pants that are both durable and quick drying. If I had my druthers, I would want the pants to be quiet and breathable as well. For the price, it is hard to beat Cabela's Microtex pants. However, Nomad and Ol' Tom also offer quality options.
Also Read:
I would be remiss if I did not mention leafy suits in this section. Leafy suits (almost like a sniper's ghillie suit) not only provide camouflage coloring but also add a 3D aspect to help keep you hidden. Better yet, most are made up of mesh so you can wear your most comfortable t-shirt and pants underneath. I have even heard of a few brave souls who wore shorts under a leafy suit (beware of ivy, insects, and ticks if you go this route).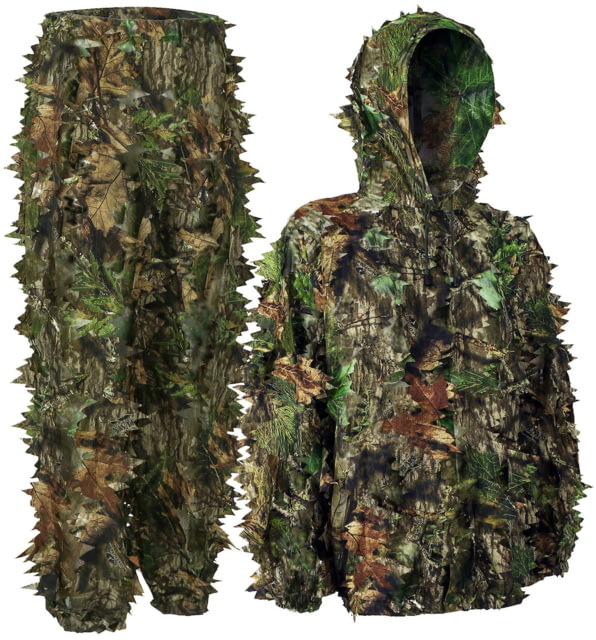 Once again, there are a number of different brands of leafy suits. Nomad and Titan both make nice suits in this niche.
For most of my hunts, I can get away with just my hunting shirt and pants, but there are many hunts where I will at least start with a jacket on.
Jackets, Coats, and Bibs to Wear Turkey Hunting
Weather can vary quite a bit during spring. You can have snow or you can have 90-plus degree days. Many times it will start cool and warm up as the sun rises.
I get a lot of use out of lightweight, fleece sweatshirts early in the morning. Once it warms up, it is super easy to stow in the back of your vest. My favorites include the Kuiu Peloton 240 and the FirstLite Klamath. Both of these are made of grid fleece and are wind resistant.
If it is a very cold day, you may need even more insulation. Heavy-weight camouflage bibs and coats can be worn to keep you warm while turkey hunting.
Make sure to choose an outer layer that will stand up to the rigors of turkey hunting. It's not uncommon to run through briars, privet, and other thick and thorny vegetation on a hunt.
There are few insulators as warm as down. It can be great to wear if you keep it under a more rugged outer layer. Keep in mind that natural down will not be effective if it is wet. Some manufacturers have treated down to make it water-resistant or used a synthetic down in their clothing. Be on the lookout for these if you think you live in a northern state where you may regularly run into wet, frigid conditions.
In addition to your layers, your choice of headwear will also play a big part in keeping you warm.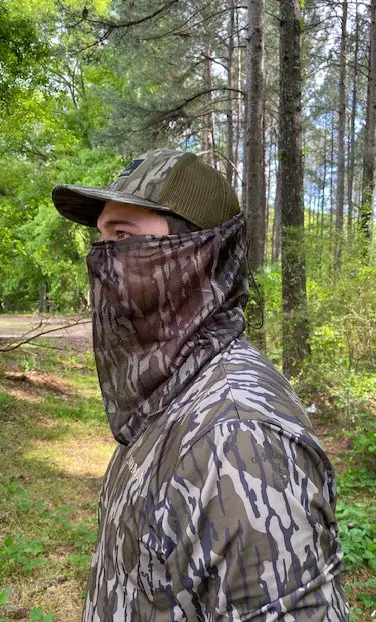 Covering your Face and Head
As with all the other clothing choices we've made so far, the hat and facemask you wear turkey hunting will vary based on the weather.
If it is a warmer hunt, I prefer a baseball cap with a net-style facemask over it. This kind of facemask keeps bugs off of you and allows you to breathe and see while keeping your face from shining like a spotlight for turkeys to see. The baseball cap will cast a shadow over your face and keep the sun out of your eyes.
In cold weather, I have a balaclava or a neck gaiter/beanie combo I wear turkey hunting. Either merino or fleece are good materials for these items.
Many people who hunt from a blind will choose black facemasks, hats, and even shirts and jackets to match the inner lining of most blinds. This certainly makes a lot of sense and can definitely add to your concealment when hunting from a ground blind.
I generally wear camouflage hats and facemasks for all situations. Even if I am sitting in a blind, I may decide to get out and try to close the distance on a gobbling tom or change up my strategy as the day goes on.
Gloves to Wear Turkey Hunting
I keep several pairs of gloves in my vest for different occasions and when I inevitably leave one behind at a calling tree. I like a pair of mesh gloves with the tips of the fingers and thumbs cut off the right hand for most situations. The pair I use are similar to these.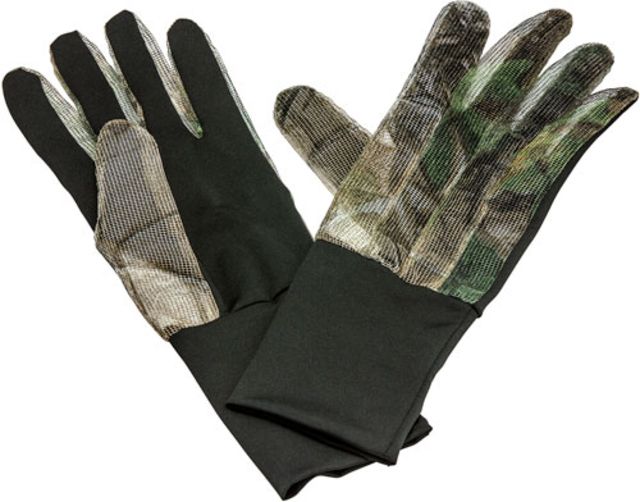 These gloves allow me to still get a good feel for my pot and box calls. For me, it is hard to call with a thick pair of gloves on. If the weather is cooler, I will wear a pair of liner-style gloves with the index finger and thumb tips cut off.
On an especially cold day, I will use a convertible glove/mitten. I will use my left hand to support my gun or hold calls in mitten mode while I keep my right hand in glove mode in a pocket. I can then easily slip my right hand out for calling or shooting.
Your hands aren't the most important extremity to dress for.
Boots to Wear Turkey Hunting
The most important feature of a turkey hunting boot is waterproofing. Because most turkey hunting takes place in the morning, you will typically be walking through a lot of dew-covered grass, through marshes and swamps, and across creeks. These are the areas turkeys inhabit and you will want to chase them with dry feet.
The next consideration you will want to make when choosing boots is the characteristics of the area you hunt. If you hunt mountains or steep hills, you may want to consider a hiking-style hunting boot such as the Lowa Renegade. I have worn these boots in some TOUGH terrain hunting turkey, bear, and elk, and they have held up to the abuse and kept me blister-free.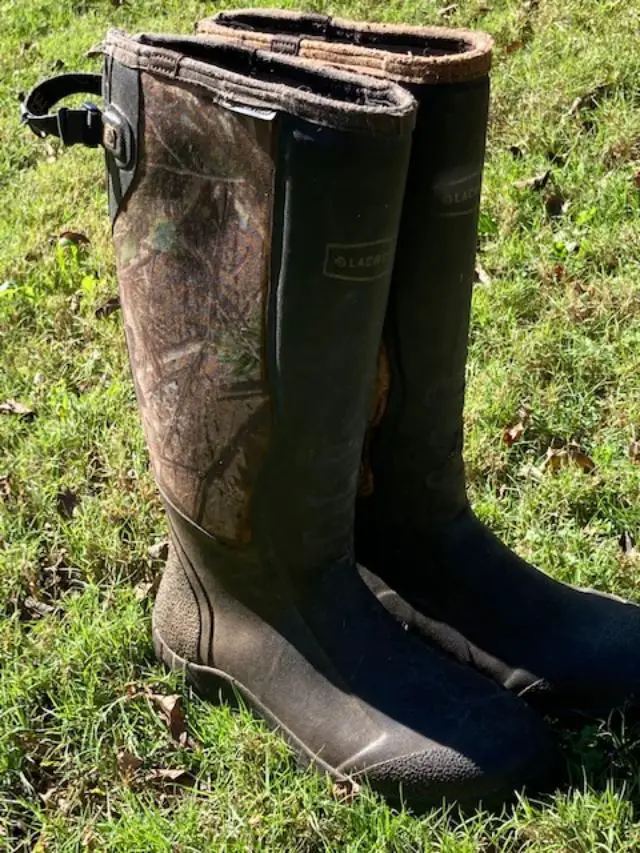 If you hunt an area where there are a lot of snakes, consider snake-proof boots. I have used the LaCrosse Alphas for years. They are a really nice springtime boot as they will keep your feet warm and dry down to the low 40s or high 50s. They come up high enough to cross creeks or tread thick marsh. There are two downsides I've found with them. In really late season down south, they can be a bit warm. They are also extremely hard to get off of your feet, especially when they are new.
Vest to Wear Turkey Hunting
Turkey vests are great for a number of reasons. They allow you to carry a lot of calls, water, snacks, decoys, a dead bird should you be so lucky, gloves, facemasks, rain gear, and shotgun shells. My vest probably weighs close to 20 pounds when it's fully loaded.
Another great thing about vests is that most include a drop-down seat to keep you off the ground. It's much more comfortable sitting against a tree all day when you have a pad under your butt keeping you dry and a pad between your back and the tree.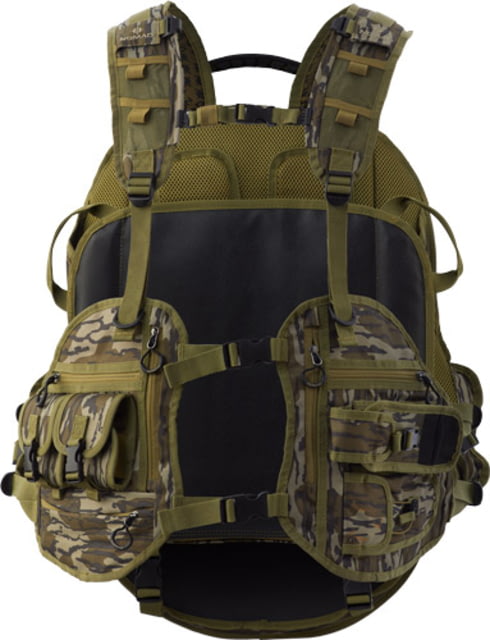 The Nomad Killin' Time turkey vests are great because they are breathable in hot weather, but still have 28 pockets to store all your gear. These vests also feature a removable seat and are designed to be one of Nomad's most durable vests.
If you are just getting started, don't feel like you have to go buy an expensive turkey vest.
Rain Gear to Wear Turkey Hunting
Inevitably, you will end up hunting in a rainstorm whether you planned to or not. You will be very happy to have a quality set of lightweight rain gear when this happens.
I have multiple sets of rain gear that I wear turkey hunting. If there is a chance of a rain shower throughout the day, I will carry a lightweight set such as the Cabelas Space Rain suit or a cheap set of Frogg Toggs. With these suits, you have to be careful not to hit any briars or they are finished.
If I know I'm in for a full day of rain, I'll wear a heavier suit like those made by Kryptek. These suits are a little more rugged while still being breathable. It's about as comfortable as you will get in a downpour.
Because I'm wearing my raingear as outerwear, I try to have camouflage to conceal myself as much as possible.
Before you go out and buy all new gear, there are a couple of safety items to consider.
Safety Considerations
When you're choosing your hunting garb, keep in mind that you may run into other hunters. On public land, it is almost a guarantee. On private land, you never know when a poacher might wander across the property line.
You should always avoid wearing white, red, and blue. These are the colors that are most prominent on a tom's head. It is always an embarrassment and a tragedy for the hunting community when one hunter mistakes another hunter for his game and shoots him.
Most states do not require you to wear fluorescent orange when turkey hunting during the spring. Always check your state and local regulations though. In the fall when other big game seasons are full throttle, you may be required to wear hunter orange.
If you are not required to wear orange by the law, then I don't recommend wearing it. Turkeys are able to pick up color better than deer or elk.
I do have an orange flyer in my turkey vest to hang out should I take a turkey. You do not want to get shot carrying your turkey out after a successful hunt. If your vest doesn't have this feature, consider putting some orange flagging ribbon or even an orange vest in your hunting vest for your walk out of the woods.
Conclusion
As you can see there is no one size fits all outfit to wear turkey hunting. You must make choices based on the weather, terrain, and time of year. The most important things are staying hidden and comfortable.
You don't have to spend a ton on clothing to get started in the sport. Just getting basic camouflage outer layers at a budget store will get you by in a lot of scenarios. Layer these over clothes you may already have on a cold day and you will be good to go.
As you get more into the sport, you will find that dedicated hunting clothes manufacturers have made turkey hunting clothing extremely comfortable and functional. While it may seem expensive at first, most of these items will last you many seasons.