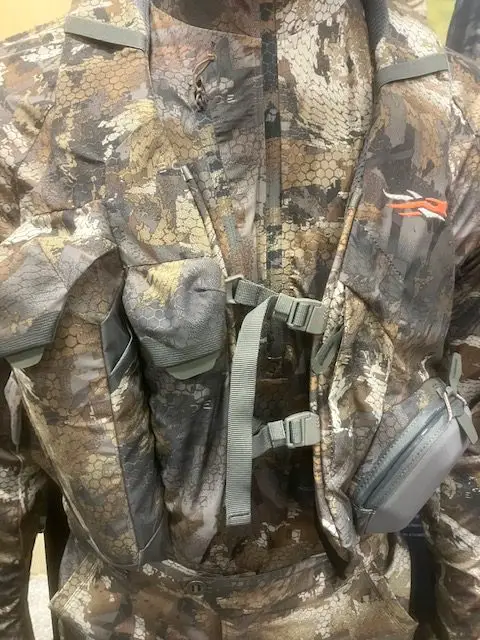 *Note: This article may contain affiliate links. If you find this information useful, please consider purchasing through these links. When you do, we receive a small commission at no extra cost to you which allows us to continue producing top-quality content. We only recommend products that we use and trust.
Sitka has been producing quality hunting gear since the early 2000s. However, they didn't directly cater to the turkey hunting market until this past year when they released the Sitka Equinox Turkey Vest.
This Sitka turkey vest is a lot different than most of the competitor products you will find on the market. As other companies focus on building bigger vests with kickstands to rest on, Sitka has created a lightweight design for those who hunt fast and hard.
I recently had a chance to check out the Sitka Equinox. While I have not had a chance to hunt in it yet, I was able to form some first impressions. There are some things I really liked about it. There are some things that I didn't like about it.
I'll share these things with you as well as provide you with all the details on the fit and finish of this Sitka turkey vest.
Pros of the Sitka Equinox Turkey Vest
The pockets are well-designed for calls. They open and close quietly. They provide great protection for your calls.
Most of the vest is water-resistant to keep your equipment dry.
The vest is lightweight and minimal. It won't burden you on long, hard hunts.
You can adjust the straps so the fit is custom to hunters of all sizes.
It comes in two different camo patterns and one solid color.
Cons of the Sitka Equinox Turkey Vest
The snaps to open and close the vest take some getting used to.
There is not a lot of room for bulkier items in this vest such as ear muffs, larger calls, and decoys. If you like to carry everything but the kitchen sink with you, this is not the vest for you.
The seat is not designed for long sits, though it is comfortable for short durations.
At 249 dollars retail, it is one of the more expensive turkey vests on the market.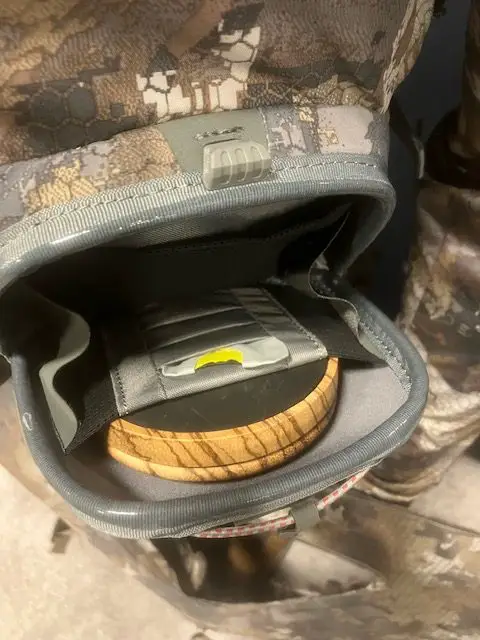 Fit and Feel
The Sitka Equinox turkey vest is sold as a one-size-fits-all. However, the vest is customizable enough that almost anyone will feel comfortable with the sizing.
The straps can be adjusted from "XS" to "XXL" based on the size of the hunter and the amount of clothing that he or she is wearing. For smaller adjustments, the straps tuck into the back part of the vest. For larger adjustments, they pull out.
The material is not as breathable as you might hope for a spring garment. For most mornings it won't be a big deal, but it could get a little warm on those hot afternoon hunts.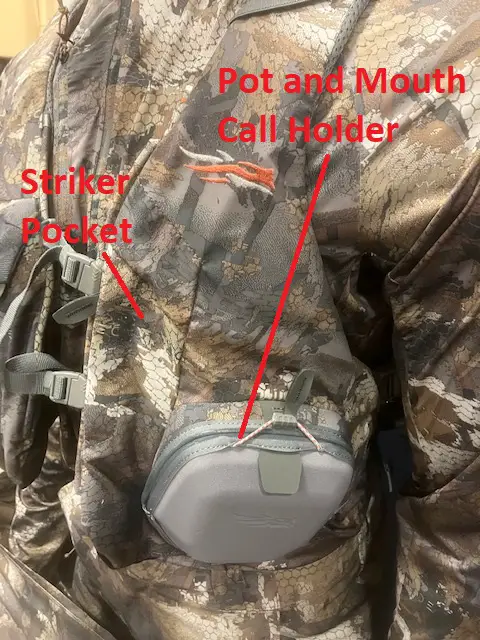 Sitka Turkey Vest Layout
There are pockets and straps all over this vest. I have tried to provide a general layout of all the features of the best in the sections below.
Front Left
Clamshell pocket features two pot call slots and three mouth call slots. It closes magnetically and also has a loop closure.
Zippered striker pocket that fits two strikers.
One zippered interior pocket is ideal for carrying facemasks, gloves, or similar items.
Front Right
Miscellaneous items pocket can house an additional slate call, push button call, locator call, phone, or other items.
Box call pocket with extra padding to keep calls protected and quiet. It has a magnetically closing top.
There are two slots on either side of the box call pocket that could hold strikers or a small knife.
Striker pocket which will hold two strikers and has a magnetic closure.
Two interior zippered pockets that can hold shot shells, licenses, or snacks.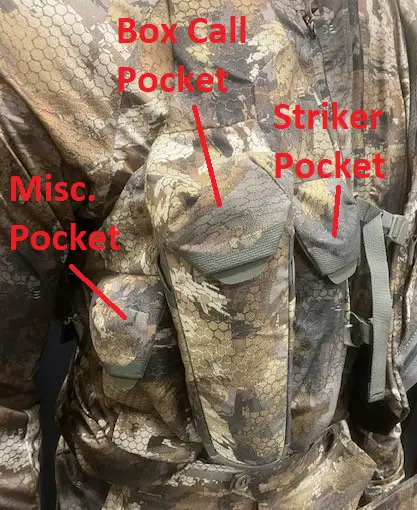 Back
Large backpack compartment. There is a divider and a small outlet for a hydration bladder and tube.
Smaller zippered pocket for personal items.
Larger open compartment with pull-out blaze orange flags. It is designed to stow deflated decoys, rain gear, or other clothing layers.
Compression straps that can be used to cinch the pack or strapped across to hold large items outside of the pack.
A detachable turkey tote for carrying out your harvest is located on the shoulder strap.
A detachable seat cushion that quietly deploys with two hands. It folds up out of the way when not in use.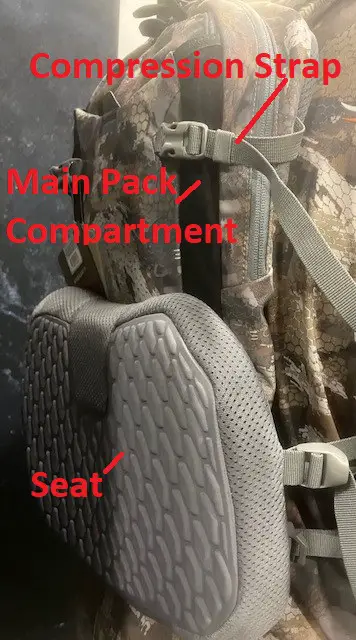 Final Thoughts on Sitka Turkey Vest
At close to 250 dollars, the Sitka turkey vest better all but pull the trigger on a big tom. While it doesn't go that far, it is extremely innovative.
It is obvious that a lot of thought went into designing the Equinox turkey vest. Most of the pockets have a designated purpose. There is no wasted space.
I love the box call and pot call pockets. Both of these are excellent for protecting your call from damage. They also make it super easy and quiet to access. The box call pocket in particular is nice because it prevents unintended noises from your box.
I like the way the seat stows out of the way and deploys very quietly. I'd probably bring a chair if I planned to sit in one place for hours, but as far as turkey vest seats go, this one is fairly comfortable.
The backpack design is different from any other vests I have ever used. It reminds me of the hunting packs I carry for elk hunting. I think I could get used to it. I really like the versatility the compression straps offer.
The snaps that connect the two sides of the front of the vest annoyed me at first. They are much harder to get together than normal snaps. However, the trade-off is that they are very quiet compared to other attachment forms.
Since the vest doesn't have a big bulky pouch in the rear that would fit a turkey, it is outfitted with a turkey tote. After I thought about it, this is actually a great idea. Cut down on a lot of bulk and essentially accomplish the same mission.
Even if you had a turkey vest custom-made for you, it wouldn't fit as well as the Sitka turkey vest. The adjustability is amazing. It allows you to easily change the size if you are wearing extra layers (or add on a few pounds from year to year).
If I was going to change anything about this vest, I would try to make it a little more breathable. I would consider adding some mesh material on the front, straps, or sides for better venting in warm temperatures.
I would also add a pocket or strap to carry my ear muffs/hearing enhancement. I don't like stuffing them in the pack part of the vest as I'm afraid I will crush them against a tree when I lean back on it.
Overall, I really like this vest. Even at this price point, I think it distinguishes itself enough from its competitors to be worth the extra dollars. If you want a lightweight vest that will protect your nice calls and help you stay quiet, check out the Sitka Equinox turkey vest.