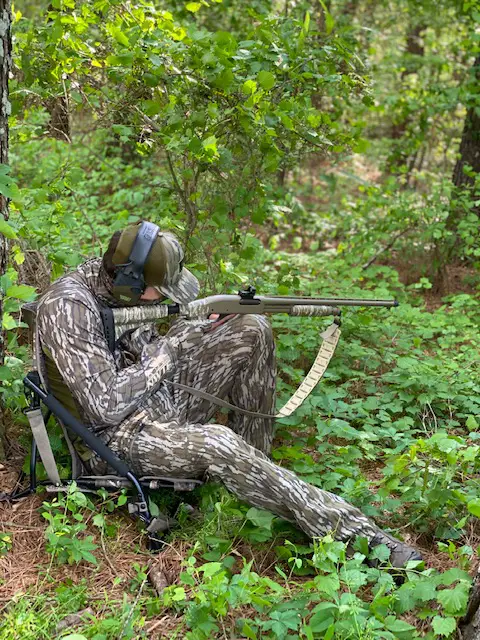 *Note: This article may contain affiliate links. If you find this information useful, please consider purchasing through these links. When you do, we receive a small commission at no extra cost to you which allows us to continue producing top-quality content. We only recommend products that we use and trust.
I got there late, but I could hear him gobbling good on the roost. I sat down about 100 yards from his roost and gave him a few light yelps. He answered me and two minutes later he flys down and walks right to me. My hunt was over in 30 minutes.
Story of my life. Not quite! I wish it always went this well. More times than not, I end up hunting in the early morning, late morning, and on into the afternoon. That's a lot of time sitting on the ground against a tree. That's hard on the back and the butt.
And so I decided to try out a turkey hunting chair. I figured anything that could help me stay still in the woods for longer couldn't be a bad thing.
After lots of research, I decided to go with the Browning Strutter. It is rumored to be one of the best turkey hunting chairs there is. I will give you my review on it, but first, let's talk about the different styles of turkey hunting chairs out there first.
Types of Turkey Hunting Chairs
There are several different styles of chairs on the market. I break them down into three main categories: turkey hunting chairs, turkey hunting seats, and turkey blind chairs.
Each category offers different pros and cons for different hunting situations.
Turkey Hunting Chairs
A turkey hunting chair is fairly light (6-7 lbs), foldable, and sits lower to the ground than a traditional chair. The idea is to elevate you slightly above the position you would be sitting in were you to sit on the ground or a cushion on your vest.
Most turkey chairs will be camouflaged as they are designed to be used outside of a pop-up blind. You could use them behind a shorter ground blind like the GhostBlind 6-Panel Runner Blind.
Turkey hunting chairs are much more comfortable than sitting on the ground. Even the newly designed vests can't keep up with the comfort these chairs provide.
If you are a larger hunter, pay close attention to the weight limits on these chairs. The last thing you want to end up with is a bent-up pile of metal and a sore backend deep in the woods.
These chairs provide a good compromise between comfort and mobility. Here is a list of some of the most popular models:
| | | | | |
| --- | --- | --- | --- | --- |
| Model | Weight | Weight Limit | Best Feature | Check Price |
| Primos Wingman Turkey Hunting Chair | 6 lbs, 8 oz. | 300 lbs | Padded armrests | See it on Amazon |
| ALPS OutdoorZ Turkey MC Chair | 7 lbs, 8 oz | 300 lbs | Call pocket off the front | See it on Amazon |
| Browning Camper Strutting Hunter Chair | 7 lbs | 300 lbs | Limited lifetime warranty | See it on Amazon |
| Millennium Field Pro Turkey Seat | 6.4 lbs | Unpublished | Smaller Carrying Size | See it on Amazon |
Turkey Hunting Seats
If you don't want something quite as heavy to carry around as a turkey hunting chair, but you'd still like to improve your comfort, you can invest in a turkey hunting seat.
These seats will keep you off the ground, but most don't feature any kind of back. A small step up from your vest's cushion, you won't hurt your back carrying these around the woods with you.
Here is a list of some of the most popular models:
| | | | | |
| --- | --- | --- | --- | --- |
| Model | Weight | Weight Limit | Best Feature | Check Price |
| Hunters Specialties H.S. Strut Deluxe Two-Way Strut Seat | Unpublished | 225 lbs | Very affordable | See it on Amazon |
| Millennium Run N' Gun Turkey Seat | 4.2 lbs | Unpublished | Adjustable height | See it on Amazon |
| Allen Company Folding Turkey Hunting Stool | Unpublished | 225 lbs | Foldable | See it on Amazon |
Turkey Blind Chairs
A turkey blind chair sits a bit higher than what I have termed the turkey hunting chair. It keeps you high enough in the blind that you can see out of the windows.
Because a turkey blind chair is mostly concealed within the blind, you could use any old lawn chair (bag chair) you have sitting in the garage. You know the type. The kind you see at campsites, tailgates, and little league games.
I like to use the same chairs that I use for dove hunting in my blinds. They are lightweight and camouflaged. While not the most comfortable chairs, I don't mind sitting on them for long periods of time. They are pretty quiet too.
The chair I use is actually called a "blind chair." Like the one pictured above, it is the Ameristep High-Back Blind Chair.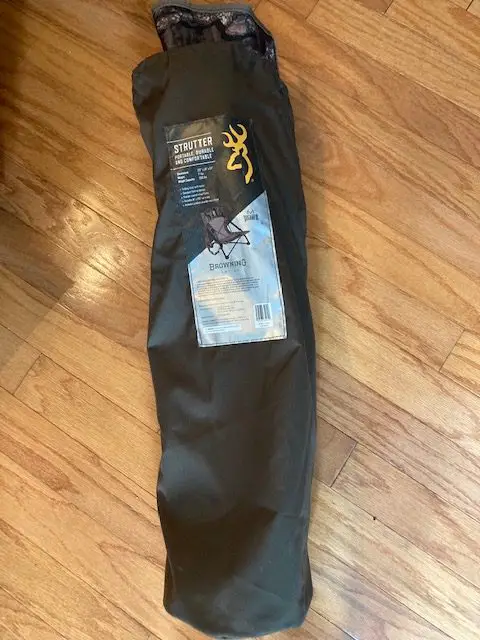 My Browning Turkey Hunting Chair Review
The Stuff It Says on the Bag
That's right. The Browning Camper Strutting Hunter chair comes in a nice little bag. An 8″x28″ bag according to the label on said bag.
The bag also states that this chair is 7 pounds with a 300-pound weight limit. This is in the same range as the Primos and ALPS OutdoorZ turkey chairs.
The dimensions of this chair are 22″x14″x24″. Not too tall, not too wide, not too deep, but good enough to keep you reasonably comfortable and concealed while remaining portable.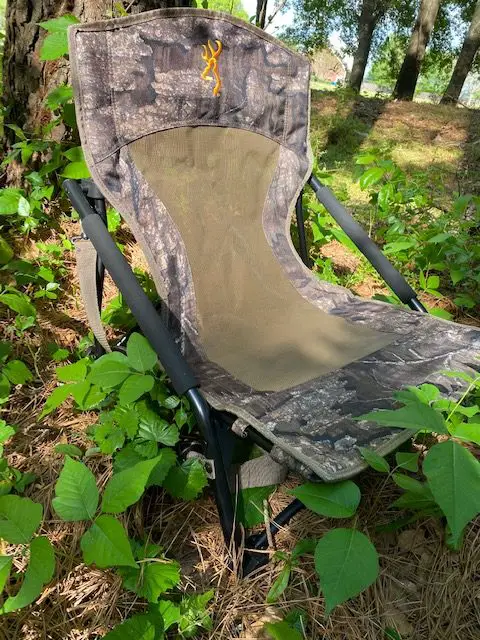 Comfort
For a chair that only sits three or four inches off the ground, this thing is comfortable. It takes a little time to get used to sitting so low. However, the seat feels good in its slightly reclined position.
After hunting for four hours in it one morning, I did not feel nearly as sore as I would have had I been sitting on my vest cushion. I alternated between stretching my legs out in front of me and putting my heels on the ground with my knees up.
The frame was plenty wide for my 200-pound frame. I have a 34-inch waist and I probably have another 3 inches of room on both sides between myself and the arms.
The mesh back was great as the temperatures reached the mid-70s. The breathability will definitely be nice on an afternoon hunt as you begin to sweat a little bit. The rest of the fabric is standard folding chair material, and I didn't have any complaints about it.
The wide feet of the chair keep the chair from sinking into the soft ground too much. They also make for a very stable sitting. I never felt off balance when I leaned in any one direction.
Carryability
The Browning turkey chair is just a bit lighter than most of my guns. You can either carry it in the bag or with the removable shoulder strap attached to the chair itself.
While this chair is no problem to carry a few hundred yards at a time, I wouldn't want to hike miles and miles with it. I see this as a good "run and gun" chair but not a "going in deep on public land" chair.
For most hunting applications, I think it is easier to carry just the chair without the bag. You can set up much faster this way. Also, the strap on the chair has a pad which makes it more comfortable than the bag strap.
There is a cool little strap with a plastic catch that keeps the chair from expanding out as you carry it. I thought this was a nice feature that worked well for me.
The tricky part with this chair is carrying it at the same time as your gun. I usually carry my gun on the strap so I either carried the chair on my other shoulder or I carried the gun in my hands. You could possibly put both on the same shoulder, but I didn't want the two banging together.
One aggravating thing to me is that the top part of the chair fabric will slide off of the frame when you are carrying and/or setting up. It's not that big of a deal, but I feel like Browning should have found a way to secure it.
When you are done with the chair, it slides back into its bag easily.
Concealability
My Browning turkey chair came in the Realtree Timber pattern. It's a very brown-central pattern that is not going to stand out in most places.
The frame is matte black. I'm no turkey, but it doesn't catch my eye. Regardless, very little of the frame can actually be seen.
As low as this chair sets, you're not at a much higher profile than you would be sitting on the ground. The chair is about 2 feet wide so you will want to choose a pretty large tree or a pile of brush as a backdrop to keep from profiling yourself.
One of the best things about this chair is how quiet it is. As I shifted around, I could barely hear any sounds from either the fabric or the frame. No swishes, creaks, groans, or thumps. I had to try really hard to make an audible noise with it.
The pads on the arms are good if you accidentally bang your gun or call against it. Overall, the frame takes bumps without making too much of a sound.
Durability
I will caveat this section by saying that I have not put my Browning turkey chair through the grind of multiple seasons. I am writing this section based on my initial impressions.
As I mentioned above, this chair comes with a limited lifetime warranty. So if you have any issues with the chair, you can call the 800 number to see if it is covered. Hopefully, it doesn't come to that.
This chair seems really solid. The fabric seems thick enough. None of the seams are improperly sewn. I have already mentioned my issues with the top section slipping off the frame.
The frame feels quality. Outside of some serious abuse, I don't see why it wouldn't hold up through the season. The folding and unfolding are smooth.
The strap seems appropriate for the size of the chair. The clips and the d-rings are mostly plastic which could be the most vulnerable part of the chair.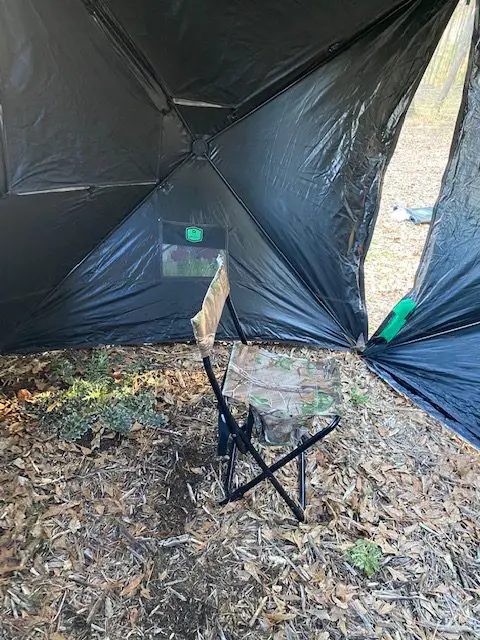 Final Thoughts on Turkey Hunting Chairs
If you have been suffering to stay still because you are so uncomfortable sitting on the ground, it is worth looking into a turkey hunting chair. Most of these options are fairly inexpensive. For a little bit of money, you could be sitting pretty when that tom comes strutting to you.
When you are choosing a chair, choose the type that suits your hunting style. Turkey hunting chairs for a good mix of portability, concealability, and comfort. Turkey hunting seats for a bit more range. Turkey blind chairs for hunting from a blind.
If you're looking for suggestions, one of the best turkey hunting chairs is the Browning Camping Strutter. I have been impressed with mine so far. My back feels like a million bucks this season.
If you haven't already, read my article on the Barronett Pentagon to learn about another piece of gear to keep you comfortable in the field.