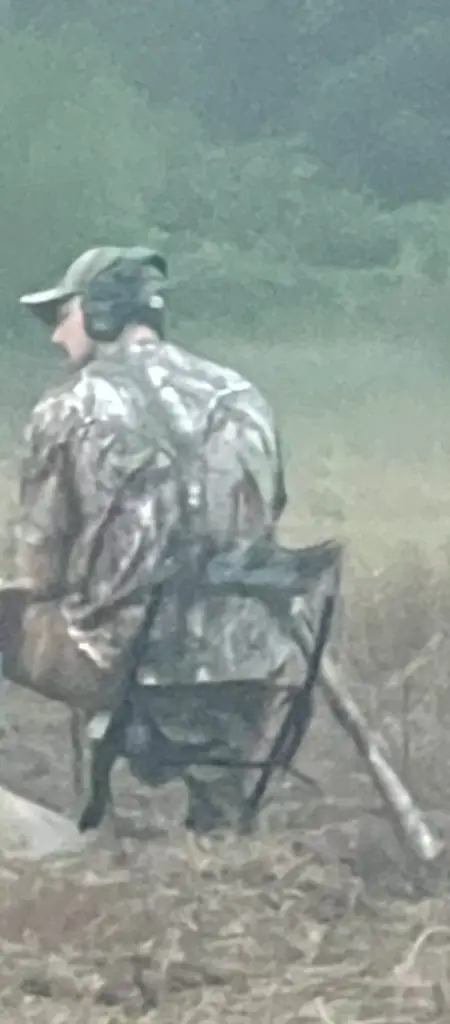 *Note: This article may contain affiliate links. If you find this information useful, please consider purchasing through these links. When you do, we receive a small commission at no extra cost to you which allows us to continue producing top-quality content. We only recommend products that we use and trust.
There are a few essentials that can make or break a dove hunt. You need a working gun, plenty of ammo, and comfortable dove hunting chair!
The right dove hunting chair can be the difference between a miserable day in the field or a fun experience you're reliving for years after that. It can be the difference between calling it an early day and filling your bag limit.
I've got some experience with good and bad dove hunting chairs that I'd love to share with you. First, let's talk about why you need a dove hunting chair. Then we will get into the qualities to look for and the best options on the market. Let's go!
Why You Need a Good Chair to Dove Hunt
Technically, you could stand up the whole time you are dove hunting. However, a chair offers you several advantages over standing.
For one, if you plan to hunt for several hours or more, you will probably want a place to sit. Sitting on the ground is not a great option when you plan on shooting up into the air.
Second, sitting down gives you a lower profile to hide you from incoming doves. As the doves fly into range, you can pop up from your chair quickly and shoot, or you can stay seated to shoot.
Third, a dove hunting chair helps establish your area in the field. It gives you a central location to operate and gives other dove hunters a visual so they can set up far enough away from you.
Qualities to Look For in a Dove Hunting Chair or Stool
Lightweight- You may have to hump your dove hunting chair quite a ways to get to your hunting spot. If you do, you want your chair to be light enough that you won't be worn out by the time you get where you need to go.
Comfortable- If the doves aren't flying right away, you may need to sit in that chair for a while. I have hunted all day many times. No need for an aching back and a sore butt. Get a chair that you can relax in between shots.
Camouflaged- So it doesn't have to technically be camouflaged, but it should blend in. The majority of your dove hunting stool should be camo or earth-tone with nothing flashy on it.
Durable- You're going to be jumping up and sitting down in it over and over. You will probably be in the mud and muck on uneven terrain. It's going to take a beating. It'd be nice to have something to last you through the season, but preferably multiple seasons.
Additional Features- Gizmos and gadgets such as coolers, cupholders, and attached umbrellas can make your hunt more enjoyable. Just make sure they don't weigh down the chair too much.
The Best Dove Hunting Chairs
Here are my suggestions for dove hunting stools and chairs you should consider for your next hunt. While I don't have first-hand experience with all of these exact models, I have used something similar to all of them at some point.
All of these options are camouflaged so we at least have that quality covered. You will see that each of these options is a tradeoff between one quality or another. Find the one that suits your style and situation best!
While this chair doesn't have any extra gadgets or gizmos like the other dove hunting chairs on this list, it is lightweight, comfortable, and durable.
This chair weighs just 2.4 pounds with large anti-sinking feet attached. These large feet are great for the dove field where you will probably be sitting in rough, uneven terrain. The square frame also assists with stability. The pack bag makes for an easy carry into your spot on the field.
I really like the mesh back and sides that allow air to flow through on a hot day. One downside to this chair for dove hunting is the deeper seat. This can make it more difficult to pop up when you are ready to shoot (think deep squat). If you shoot sitting down, this may not be an issue at all.
If you're looking for a really comfortable, lightweight seat in a simple package, this is a good one.
This is a neat little model if you are looking for a dove hunting stool that is light and packable. You can use the attached backpack to carry it in.
On top of that, the backpack has a cooler to carry your water and snacks for the day. You could also put your doves, shells, and sunscreen in the pack as well.
The downside is the fact that you don't have a back on this stool. That probably wouldn't be an issue for shorter hunts, but if you're having to sit for long periods of time it might be uncomfortable.
The Leadallway fishing chair is a classic dove hunting chair design with a cooler attached. Weighing in at 2.9 pounds (with nothing in the cooler) it is lightweight for trekking across the dove field.
The lightweight nature of this dove hunting chair comes with a tradeoff. It is much smaller than a normal camping-style folding chair. Larger hunters may find it extremely uncomfortable. However, I personally use a dove hunting chair very similar to this on a regular basis and it doesn't bother me to sit in it for several hours at a time (I'm 6'1″, 195 lbs for the record).
Like the backpack chair above, the attached cooler makes for one less thing you have to carry to the dove field. Keep everything you need except for your gun in one neat package.
A new twist on an old classic! My grandfather used to love dove hunting from a bucket. This kit dresses your bucket into a swiveling, dove hunting chair with a cooler and pockets.
A swiveling dove chair is great for keeping an eye out in all directions for birds. However, the lack of a backrest is a bit of a bummer. This outfit is also going to be a bit heavier than some of the other options at 5.5 pounds empty. It does have backpack straps on it so that helps you manage the burden a lot easier.
The cool part about this is you really can pack almost everything you need in it. Use the cooler to house your perishables and the pockets for your other items. This chair is also going to be durable for many years of hunting.
If you are the type of dove hunter who prefers to sit (or draw) a blind in the middle of the field, this may be the best dove hunting chair for you. This folding chair has an attached canopy to shield you from the sun and help hide your movement from doves cruising the field.
While this chair has some nice features, it weighs 10.8 pounds, significantly heavier than most of the other options on this list. If you can hump it in though, it might be worth it.
This chair does get poor reviews for durability and ease of use on Amazon. My recommendation would be to try it out before you hit the field and return it if you don't think it can stand up to the rigors of your hunting style.
Did you enjoy this article? If so, you may also enjoy my article on what to wear dove hunting.