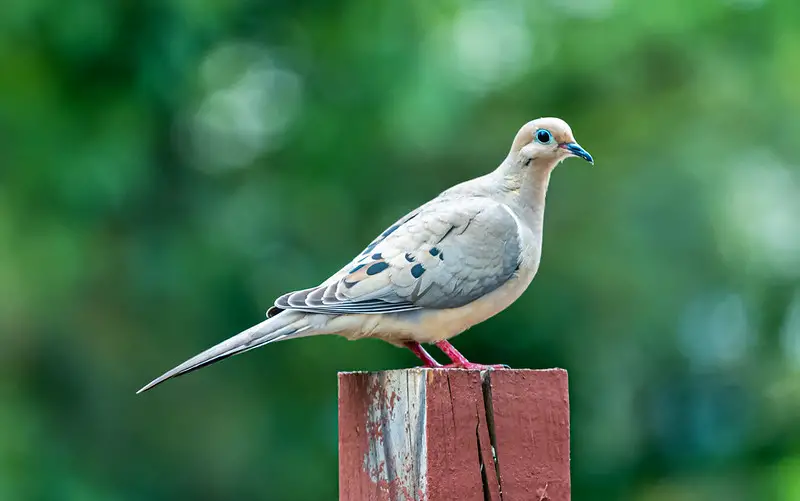 *Note: This article may contain affiliate links. If you find this information useful, please consider purchasing through these links. When you do, we receive a small commission at no extra cost to you which allows us to continue producing top-quality content. We only recommend products that we use and trust.
When you're trying to figure out what to wear dove hunting, you don't want to stand out to the birds… or as a noob to your fellow hunters! You also want to be as comfortable as possible so you can stay out long enough to fill a bag limit.
I'm here to break down all the details on what to wear dove hunting. Whether you are hunting in extreme heat during the early season or near-freezing temperatures in the late season, I'm gonna give you my best suggestions for the dove field.
Let's start off with some general guidelines on what and what not to wear when you are dove hunting.
General Guidelines
Doves have very good eyesight. Because of this, you need to wear camouflage or earth-tone colors to blend into your surroundings.

Unlike other upland bird hunting, you don't want to wear blaze orange or other hi-viz colors when hunting doves unless your state regulations require it. Remember to always read the hunting regulations for your area before you go hunting.

Hunting doves can be a half-day or all-day affair. Dress comfortably in layers if necessary so that you can shed or add clothing as the temperatures heat up or cool down throughout the day.

Shotguns are loud! Wear hearing protection. Whether you use simple ear plugs or ear muffs, I highly recommend protecting your hearing from the onslaught of shotgun blasts throughout the day.

Squinting into the sun all day looking for birds can be brutal. Be sure to wear a good pair of tinted shooting glasses to protect your eyes from the sun and stray shot coming down from other hunters.

Don't forget to wear sunscreen on your exposed skin. I can't tell you how many tailgate photos I have of me at the end of a dove hunt where I have raccoon eyes!

If you're recoil sensitive or shooting somewhere with a really high bag limit (such as Argentina), consider wearing a shooting pad on your shoulder.
What to Wear Dove Hunting When It is Hot
Here in my home state of Georgia, the vast majority of dove hunters only hunt on opening day. Opening day is the first Saturday in September here and it is always HOT!
Be sure to pack a cooler full of water and Gatorade. I also like to have a camouflaged umbrella that I can sit under when the doves aren't flying.
Here is what I wear dove hunting on these days. You'll notice everything is centered around being as cool as possible.
Shirt
During a hot weather dove hunt, I try to wear the most breathable camouflage shirt I can find. It can be a fishing-style long-sleeve shirt or a short-sleeve dry-fit type shirt. You want your shirt to keep you as cool as possible, protect you from the sun, and hide you from the eyes of the doves above.
Pants
I see a lot of people wearing shorts to dove hunt when it is hot. A khaki or camouflage pair of shorts can be just fine. However, I like the protection from ticks, redbugs, and mosquitoes that long pants provide.
Breathable pants by big-name hunting brands such as Sitka, Kuiu, Drake, Columbia, and Nomad are awesome! Get them in camouflage or earth tones.
I also like the Eddie Bauer and Kuhl pants in a dark brown color. Designed for hiking, these pants aren't suffocating in the heat and they also look nice to wear around town or even in the office (if you have a more casual dress code). You can often find them for sale or even used on eBay.
Hat
I always wear a hat dove hunting. It keeps the sun off my face and it also helps hide me from the doves.
You can go with a baseball cap or a boonie hat for additional sun protection. Get it in camouflage or brown, green, or grey hues. Avoid white, orange, red, and blue colors.
Boots
I like to wear my lace-up Keens, because they don't tend to make my feet sweat as much as some of my slip-ons. Definitely stay away from any kind of insulation on a hot weather hunt.
You can also wear tennis shoes. I don't like tennis shoes if I'm hunting in the morning because the dew inevitably leaves my socks and feet wet. If you do opt for tennis shoes, try not to wear your brightest, flashiest pair.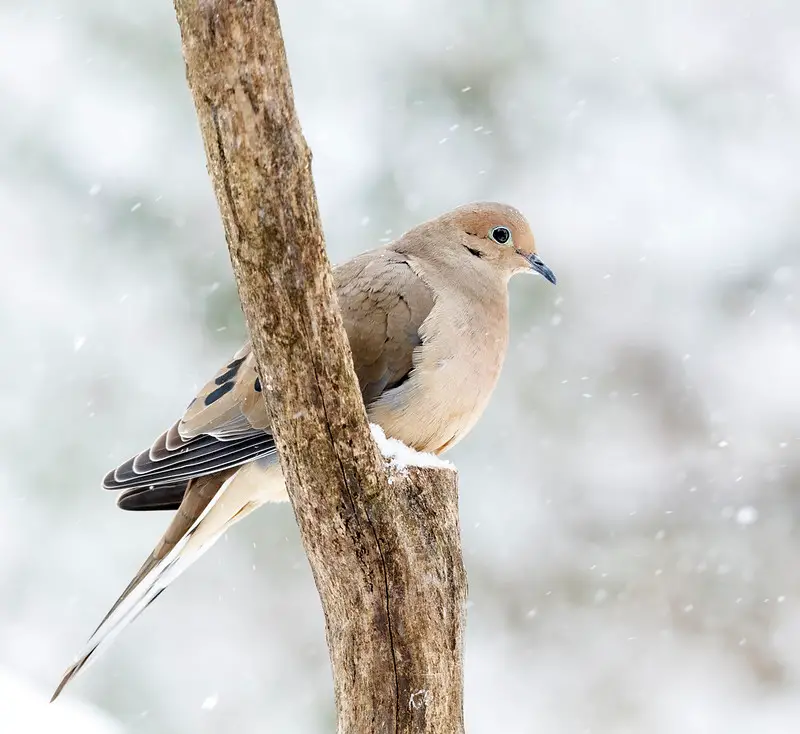 What to Wear Dove Hunting When It Is Cool
Many states have open dove seasons in December and January. Even if your state doesn't have hunts this late, they probably have some cooler weather hunts in the late fall.
These hunts can be really enjoyable. The doves will probably be a lot more wary of the guys hiding out with shotguns below them, so be sure you are well camouflaged. Here is what I wear dove hunting when it is a bit (or a lot) colder out.
Base Layers
A good base layer is essential for a comfortable hunt in cool weather. It is the first line of defense against moisture and weather.
In the early morning, a base layer is part of a system to keep me insulated. As the day heats up, I may strip down to just my base layer on top (most of the other hunters appreciate the fact that I keep my pants on). Because of this, I like to choose an earth-tone or camouflage base layer.
Whether you choose merino wool or a synthetic is more of a personal preference. You can read more about the pros and cons of each in my article on base layers here.
Upper Body
The temperature will dictate how many layers you wear, but I would go with a base layer (merino or synthetic), an insulating layer (down or fleece), and an outer layer (rugged jacket). If it's not extremely cold, you can ditch the insulating or outer layer.
Lower Body
For most situations, a pair of medium-weight hunting pants such as the Kuiu Attack Pants or the Sitka Gear Traverse Hunting Pant layered over your base layer should keep you comfortable on all but the most frigid days. You can even just layer some cheap cotton camouflage or Carhartt jeans over your base layer pants if you're on a budget and it's not too cold.
If it is really cold, you may need some insulated bibs or pants to get through. I like down-filled bibs for those really cold days, but you can also wear wool or fleece.
Headwear
I recommend wearing a baseball hat with a beanie (toboggan) pulled over it when you are dove hunting in the cold. The visor of the baseball hat casts shadows over your face helping hide you from the doves. It also keeps the sun out of your eyes.
The beanie will keep you warm. Get one long enough that it pulls over the hat and your ears.
I will also wear a neck gaiter on really cold or windy days. Try not to get anything too bulky that may get in the way of you mounting your shotgun.
Gloves
When looking for gloves to wear dove hunting, I recommend the thinnest you need to get by. You need your hands ALOT on a good dove hunt for shooting and reloading. I hate a bulky glove that inhibits my dexterity. You may even consider a glove with no fingers on your trigger/reloading hand.
Get a good muff to wear around your waist. When you're just waiting, you can keep your shooting hand in the muff so it stays warm. You can even stick some hand warmers in it.
Boots
If it is cold enough, an insulated boot is nice for keeping your feet warm enough to get through a long hunt. For the deer hunters, something similar to what you wear on a late-season deer hunt will do the trick for doves as well.
Lace-ups or slip-ons will be fine. Most dove hunts don't require you to walk extremely long distances to get to your sitting area. Merino wool socks will help keep your feet dry and warm.
Did you enjoy this article? If so, you may also enjoy my article on choosing the best dove hunting chair.