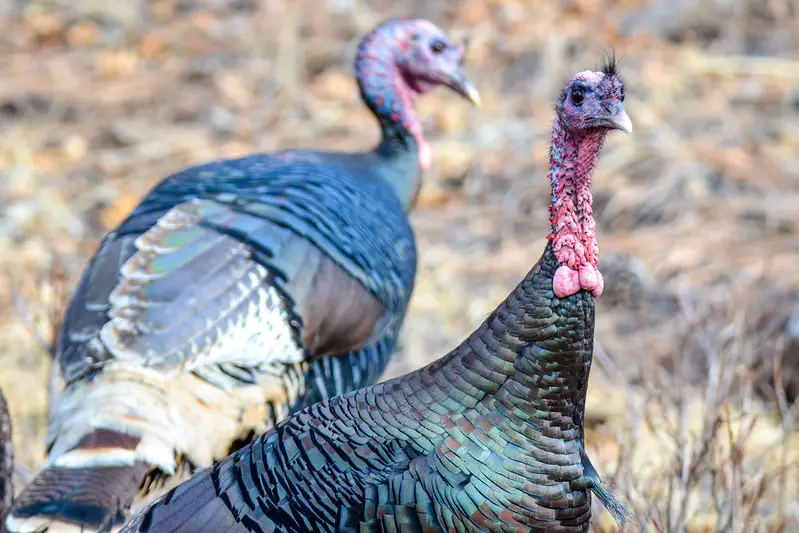 A jake turkey is a one-year-old male turkey. Not fully mature yet, you can draw parallels between a jake and a spike buck. Like the spike buck, many hunters will not shoot a jake.
Let's get into more detail on how to identify a jake turkey and whether or not you should shoot one.
How to Identify a Jake Turkey
Jakes or "shortbeards" can be identified by their stubby beards. Mature toms or "longbeards" will typically have a beard that is seven inches or longer though they can have shorter or even non-existent beards due to beard rot. Birds known as "super jakes" can have beards up to six inches in length.
Jake turkeys will typically have short, rounded spurs. These will usually measure less than half an inch in length. Mature gobblers will have sharp, pointed spurs greater than half an inch unless they have broken them off for some reason.
The tell-tale sign of a jake (no pun intended) is the length of the tail feathers. The central tail feathers of a jake will be longer than the outer feathers of the jake's fan. A two-year-old or older tom will have a smooth, congruent fan with feathers roughly the same length all the way around.
Compared to a gobbler, a jake will have softer, more broken gobble than a longbeard. Of course, there are exceptions to this rule, and you will hear jakes that sound like a grown tom. There are even jakes that come in strutting like they're the boss.

Should you Shoot a Jake Turkey?
In most states it is legal to shoot a jake. As always, be sure to check your local regulations before hunting. There are a couple of states that do not allow the practice.
One state that does not allow adult hunters to shoot jakes is Mississippi. According to the regulations, the Mississippi bag limit is "[one] (1) adult gobbler or 1 gobbler with a 6-inch or longer beard per day, 3 per Spring season. Hunters 15 years of age and younger may harvest 1 gobbler of choice (any age) per day, 3 per spring season."
Another state that limits jake hunting is Arkansas. Arkansas' regulations state that the "bag limit is two legal turkeys, no jakes." However, the state will allow hunters ages 6 to 15 to kill one jake.
Arguments for Letting Jakes Pass
If you are hunting in a state that allows the harvesting of jake turkeys, here are some reasons that you may consider letting the little guys pass:
Many people consider jakes easier to trick into coming into calling than a mature tom. It is almost too easy to kill these horny, "teenage" turkeys. You want the challenge of killing a longbeard.
You don't think that your area has enough two-plus-year-old gobblers to hunt. Essentially, you are letting them grow up so you can shoot them in the following years.
You believe that shooting jake turkeys throws off the turkey ecosystem and that passing on them will allow wild turkeys to better prosper.
You think that if you shoot the jakes this year, you won't have any two-year-old birds to kill next year.
You take a lot of pride in your hunting and it would kill your reputation to give a jake a ride home in the back of your truck.
Arguments for Shooting Jakes
Now let's look at the other side of the coin. Why would you want to shoot jakes?
You've never killed a turkey and you would be excited to take anything legal. Maybe you've killed one with a shotgun, but now you're trying to get your first turkey with your bow.
You just want to eat a wild turkey. Some people say that jakes taste better than their older rivals.
You don't have many opportunities to hunt. Maybe you only get limited time to go because of family, work, weather, or your location's season. If you don't take that jake, you may not have another chance to bag a bird this year.
You don't believe there is any biological reason for not shooting turkeys and you don't care what anybody thinks of you. You're not living for the 'gram.
There is a gang of jake turkeys on your property bullying the longbeards and keeping you from taking a bigger bird.
The jake comes to your calls gobbling or strutting. Aside from appearance, he acts just like a gobbler. He played the game so you decide to take him.
I tend to believe that if there was a biological reason to not shoot jakes, more states would make it illegal to harvest them. As long as that jake is not the last male turkey in the area, your turkey population should be just fine.
Conclusion
I was talking to a guy the other day about his deer hunting club. He told me that they don't allow anyone to shoot anything under 150 (Boone & Crockett score). I asked him how many they had shot over 150. He informed me that they hadn't yet. I thought to myself, "what a fun club."
Now I wasn't a member of this club, so it wasn't really my place to judge what they choose to shoot or not to shoot. These guys valued watching young deer and imagining the possibilities more than filling their freezers. And that is my point here. If you have limited time or opportunity, or you just want to fill your tags as fast as possible, then shoot jakes! If you want a challenge or want to see the little guys grow up, then let them pass.
Ultimately, the decision is up to you (as long as it's legal). Are you a jake slayer?
If you enjoyed this article, you may also enjoy learning how to tell a hen from a tom.